Best Website Design Companies Buffalo NY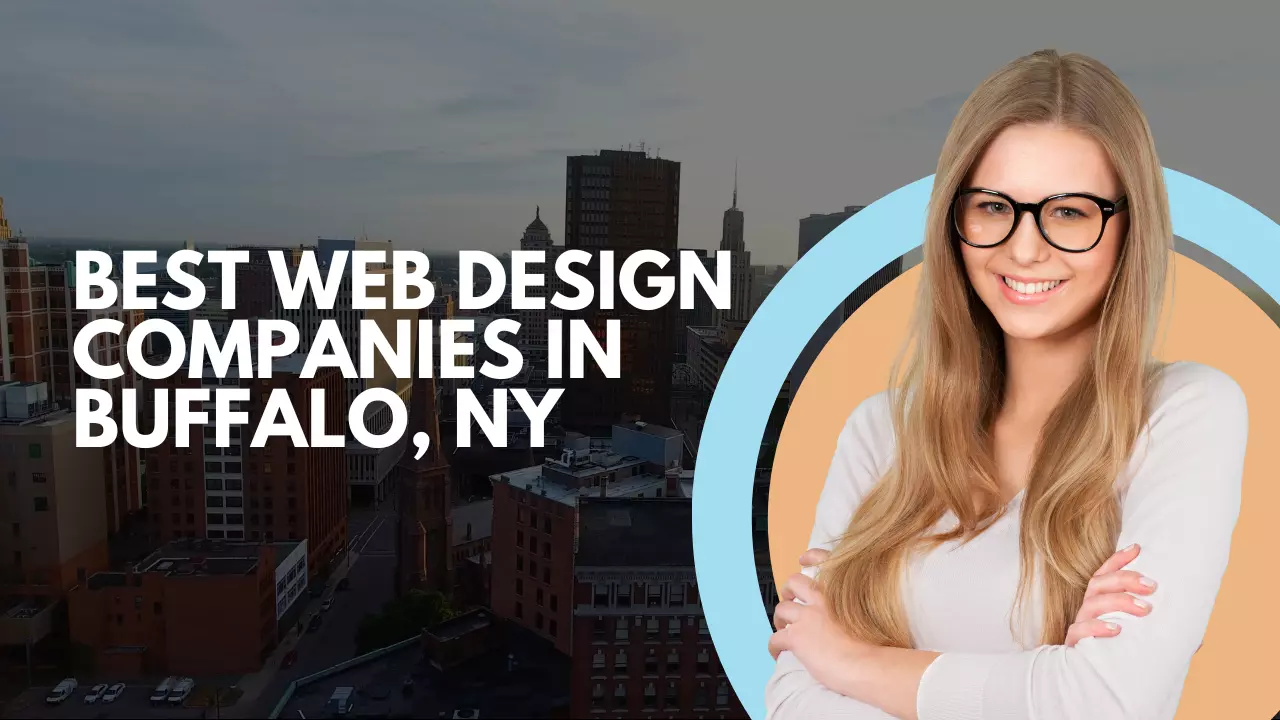 Looking for the best website design companies in Buffalo, NY? You're in the right place! When it comes to getting a great website, you want to find a company that really knows their stuff. In Buffalo, there are some top-notch options to choose from. Let's explore them together, so you can make an informed decision about who to trust with your website needs.
1. 360 PSG
Looking for the best website design companies in Buffalo, NY? Look no further than 360 PSG. They're not just any digital agency – they're all about helping your business succeed online.
At 360 PSG, their mission is clear: they want to help your business thrive by generating high-quality online leads. How do they do it? Through expert digital marketing strategies, optimization, and modern website designs.
Based right here in Buffalo, New York, 360 PSG is a full-service web design and development company. Their goal is to provide top-notch web solutions that won't break the bank. They've got a talented team that includes programmers, web designers, content writers, SEO specialists, and support staff. Together, they create effective websites and web applications for clients all over the country.
What can they do for you? Well, they offer a range of services, including content management (CMS), website design, search engine optimization (SEO), e-commerce solutions, custom programming, and content planning & writing.
What sets 360 PSG apart is that their web designers aren't just focused on making things look good – they're also experts in marketing effectiveness. They know that a clean, user-friendly site is more likely to turn visitors into customers. They understand the importance of showcasing your best features because they know that first impressions matter. So, if you're looking to make a strong online impression and drive your business forward, 360 PSG is the company to trust.
Find more about 360 PSG https://www.360psg.com/
2. AldoMedia, LLC
When you're looking for top-notch website design companies in Buffalo, NY, AldoMedia, LLC is a standout choice.
You might be wondering, "Why AldoMedia, LLC?" Well, here's what you can expect when you work with them:
Years of Experience: With a whopping 24 years in the business, AldoMedia, LLC brings a wealth of knowledge to the table. They've been creating customized website designs since 1999, which means they know the ins and outs of the industry.
Responsive Design: AldoMedia, LLC doesn't just create websites; they make sure your site looks fantastic on desktops, tablets, and mobiles. That's a must in today's online world, and they've got it covered.
SEO Expertise: Your website is only as good as its visibility. AldoMedia, LLC understands this, and they're pros at Search Engine Optimization. They'll make sure your website not only competes but dominates in search engine rankings.
Small Business Transformation: Whether you're a small or medium-sized business, AldoMedia, LLC can take your online presence to the next level. They specialize in turning ideas into online realities and have a knack for helping businesses grow.
Diverse Services: It's not just about web design here. They offer a range of services, from branding to SEO, computer repair, and social media support. They're a one-stop-shop for your online needs.
Global Reach: Even though they're based in Amherst, NY, AldoMedia, LLC works with professionals worldwide in various industries. Distance is not a barrier when you're working with them.
Long-Term Partnerships: What sets AldoMedia, LLC apart is their commitment to long-standing relationships. They've supported many companies through growth and transitions, adapting their designs to keep up with evolving needs.
So, if you're seeking a website design company in Buffalo, NY that can deliver results and help your online presence thrive, give AldoMedia, LLC a serious look. Their experience, expertise, and dedication make them a solid choice for businesses like yours.
Find more about AldoMedia, LLC https://www.aldomedia.com/
3. FreshySites
FreshySites offers a range of web design services for businesses in Buffalo, and they take your goals seriously. They're all about creating websites that not only look good but also bring in sales and leads. When you choose Freshy, you're getting an expert who can handle it all.
One standout feature is their expertise in WordPress website design. They're one of the biggest players in the US, and they extend their services to businesses in Buffalo and beyond. So, whether you're in the city or out of state, they've got you covered.
If you're struggling with search engine visibility, FreshySites can help with that too. Their search engine optimization services will boost your website's ranking, making it easier for local and non-local customers to find you.
Worried about keeping your site up-to-date and secure? FreshySites has you covered there too. They offer website maintenance and security services to ensure your site stays modern and safe. Your site will be among the most secure in Buffalo.
What's impressive is their retained services. You get a dedicated Buffalo team that works as an extension of your own. They offer customized workflows and quick response times, providing ongoing assistance and guidance.
But what sets FreshySites apart is their talented team of WordPress website designers and developers in Buffalo. With their collective experience and skills, they're the best in the business. When you choose Freshy, you're not just getting a service; you're getting a skilled partner who'll bring your vision to life.
So, if you're in Buffalo, NY, and need website design services, FreshySites is definitely worth considering. They're all about delivering results, and they take your website's success seriously. Give them a shot, and you might just find your ideal web design partner.
Find more about FreshySites https://freshysites.com/
3. Kristen Johnson, LLC
Looking for a web design company in Buffalo, NY? Consider Kristen Johnson, LLC. They might be a small studio, but don't let that fool you. They offer affordable website solutions that are perfect for small businesses, startups, and nonprofits.
Web Design Services
Kristen Johnson, LLC provides flexible web design solutions that can meet your specific needs and fit your budget. Whether you're just starting out or looking to revamp your existing website, they've got you covered.
Custom Web Design Options
If you're in need of a brand-new website or thinking about switching platforms, Kristen Johnson, LLC can build you a shiny new business or e-commerce website from the ground up. They tailor the design to your unique requirements.
Web Design Done Your Way
Personalization is key with Kristen Johnson, LLC. You have the freedom to customize your custom-built website any way you like. They offer a variety of à la carte options, including branding, photography, writing, events, and marketing, so you can make your website truly yours.
Web Design ReDesign Options
Already have a Squarespace 7.1 website but need a fresh look? Kristen Johnson, LLC can give your site some flair and help you take advantage of the latest features and trends. They'll breathe new life into your existing website.
Web Design Course for Beginners
If you're on a tight budget and willing to get your hands dirty, Kristen Johnson, LLC offers a web design course for beginners. They'll teach you how to build your own website without any coding. Plus, they'll provide expert feedback on your site to ensure a confident launch. The next class starts in January 2024.
Customize Your Website
Remember that old song? "Any way you want it… that's the way you need it!" Kristen Johnson, LLC takes that to heart. You can choose from a range of options to enhance your website:
Photo Shoot: Highlight your brand with 10 professional photos, starting from $600.
Custom Logo: Get a custom logo and icon, along with a custom font and color palette, starting from $1,400.
Brand Elements: Elevate your marketing with custom-designed icons or brand pattern elements. Pricing is custom.
Writing: Need expertly crafted content? Kristen Johnson, LLC can provide written content for your website, newsletter, and more, starting from $1,200.
Editing & Proofreading: If you prefer to write your own content, they offer expert editing and proofreading services, starting from $300.
Community Management: Let the world know you're ready with social media, content creation, email marketing, and reputation management, starting from $700.
Launch Party: Invite the community to celebrate your business with unique touches. Pricing is custom.
Website Updates: Keep your website fresh with unlimited wording, photo, and product updates for just $100/month, billed monthly, and cancel anytime.
So, if you're in Buffalo, NY, and in need of a web design company that offers tailored solutions at affordable prices, give Kristen Johnson, LLC a look. They've got the expertise and options to help you create the website you've been dreaming of.
More About Kristen Johnson, LLC https://www.kristenjohnson.co/
5. theBREWROOM, LLC

They don't just create good-looking websites; they also prioritize SEO for every website they design and build. So, if you're wondering whether you need a completely new website or just some updates, they've got solutions for both.
Sometimes, a few tweaks can improve your site's appearance and performance. But if a fresh start is what you need, theBREWROOM has you covered. They understand that your website plays a crucial role in your business success.
Here are some questions you might be pondering:
Is my website search engine optimized (SEO)?
Is my website too old or outdated?
I don't have a website; where do I start?
How can I add new content to my website?
What can I do to attract more people to my business and website?
TheBREWROOM takes a unique approach. Because they focus heavily on SEO, they consider its implications right from the start. Your website will have basic SEO optimization when it launches, ensuring it looks good, performs well, and ranks well on Google.
But they don't stop there. Unlike some companies that hand over your site and disappear, theBREWROOM is invested in your success. They work closely with you in the following ways:
Website Strategy & Design: They want to know your preferences, dislikes, and your vision for your online presence. Your website should reflect your business's quality of service, and they'll help you achieve that.
Custom WordPress Development: They build a lot of WordPress websites because it often fits their clients' needs. And, they want you to have control over your site. They won't lock you into a maintenance contract; it's your site, and you own it. If you need help managing it, they're there.
Website Maintenance: Even after they hand over your website, they'll still be there to help you. If you need assistance, whether it's an extra set of hands or making sure your site looks and functions as you want, they're just a call away.
In short, theBREWROOM, LLC, is more than a web design company; they're your partner in online success.
Know more about theBREWROOM, LLC https://thebrewroom.com/web-design/
6. Range Marketing
If you're searching for a website design company in Buffalo, NY, you might want to consider Range Marketing. They offer website design and development services that cover everything from the initial idea to the final product.
At Range Marketing, they take pride in creating custom websites using the latest technology and modern standards. Their team of in-house designers and developers work together to make sure your website not only represents your brand but also helps you achieve your short and long-term goals.
One standout feature of Range Marketing is their inclusion of content development and copywriting services. This means that you won't have to worry about creating content for your new website – their expert copywriters will handle it for you. This way, you can keep your focus on running your business.
When it comes to the design, Range Marketing aims to combine beauty and functionality. They take your ideas, images, and goals and turn them into an attractive and user-friendly website. With their experience across various industries, they know how to create websites that effectively communicate your message to users, no matter what device or browser they're using. Plus, they have a thorough quality assurance process to ensure your site works flawlessly.
Range Marketing is a full-stack website design agency based in Buffalo, NY. They start the website-building process with a development call to understand your preferences and goals. From there, their developers create a responsive and mobile-friendly website that suits your needs. If you need content, their copywriters, all located in the United States, will research and create content that is accurate and on-brand.
What sets Range Marketing apart is their focus on SEO. They work closely with their SEO team to make sure that every website they launch is fully optimized for search engines. This means your website will be ready to rank well and attract organic traffic.
So, if you're looking for a website design company in Buffalo, NY, Range Marketing might be a great option to consider. They offer a comprehensive range of services, from design and development to content creation and SEO, all aimed at helping your business succeed online.
Read more about Range Marketing https://rangemarketing.com/services/websites/
7. Future Buffalo
Future Buffalo – Crafting Your Unique Online Presence
Looking for a web design company in Buffalo, NY? Your quest ends here with Future Buffalo.
Crafting Beautiful Custom Websites: Your website is often the first point of contact for potential customers. Future Buffalo understands this, and they excel at creating not just websites, but functional works of art that truly represent your business. Their team of experts is well-versed in modern web technologies, offering a wide range of services. Whether you need a brand-new site, a redesign, updates, optimization, e-commerce integration, or custom development, they've got you covered.
Staying Current Made Easy: Outdated information on your website can drive customers away. Future Buffalo has a solution – modern content management systems that make updates a breeze. No need for technical expertise; you or a team member can easily keep your site fresh. They can even set up custom feeds to automatically import content from your social media accounts, ensuring your website always reflects the latest news and updates.
Attracting New Business: It's not just about having a great website; it's also about attracting visitors. Future Buffalo can collaborate with you to create an effective digital marketing strategy. They'll help you design a website that encourages potential customers to get in touch or visit your business today. If your current website isn't bringing in leads, they can turn things around. Reach out for a free fifteen-minute consultation to discuss how they can help grow your business.
Why Choose Future Buffalo? There's no shortage of web designers out there, but Future Buffalo stands out for a simple reason: they're not just designers; they're business growth partners. Many companies invest in websites that look good but don't contribute to their bottom line. Future Buffalo takes a different approach. From web design to marketing services, their focus is on helping you attract new clients and customers. Let them demonstrate how you can gain a strategic advantage over your competition.
In the world of Buffalo web design, Future Buffalo isn't just an option; they're your path to a dynamic online presence that works for your business.
Read more about Future Buffalo https://futurebuffalowebdesign.com/
8. Scout Buffalo Web Design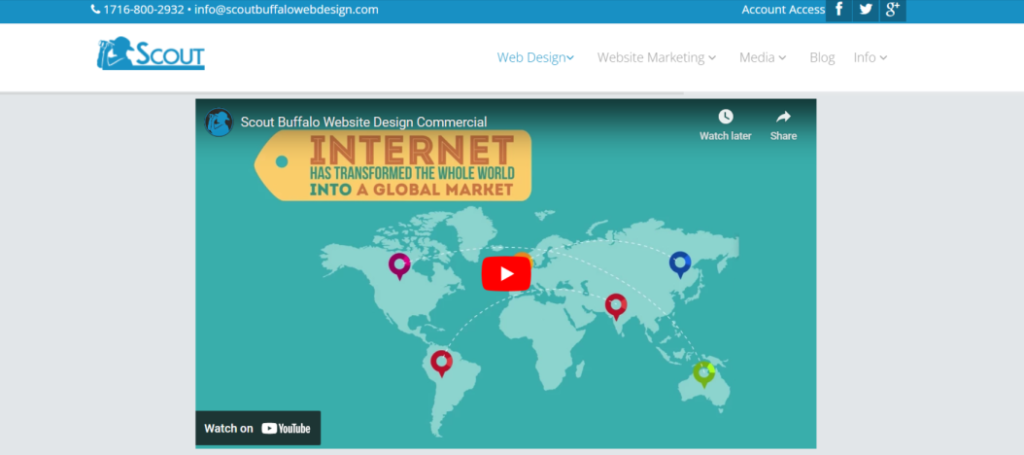 Looking for a web design company in Buffalo, NY that can enhance your online presence and connect you with potential customers? Scout Buffalo Web Design has you covered!
If you're tired of your website not appearing prominently on search engine results, it's time to turn to Scout Buffalo. We specialize in creating websites that not only look great but also perform exceptionally well. Whether you want to sell products, establish your brand, or engage with your audience, we have the perfect solution for you.
In today's digital era, having a robust online presence is vital for any business. People increasingly use computers and mobile devices to find what they need, and we're here to ensure they find you. Our skilled graphic designers will craft a stylish, speedy, and well-organized website that aligns seamlessly with your business objectives. Moreover, we'll ensure your site ranks high on search engines, enhancing your visibility to potential customers.
In a world where mobile devices are prevalent, we understand the importance of mobile-friendly websites. That's why our team at Scout Buffalo creates websites and apps that are easy to access from anywhere in the world. Whether your customers are on cell phones, tablets, or laptops, your website will be just a click away.
Modern internet marketing isn't about searching for new customers; it's about being there when potential customers are searching for you. In today's digitized world, almost all research on products and services happens online. Don't miss out on these opportunities. Contact Scout Buffalo today to expedite your business's journey to success!
Read more about Scout Buffalo Web Design https://www.scoutbuffalowebdesign.com/
9. OtherWisz
OtherWisz is a Buffalo-based website design company that offers a comprehensive range of services to help your business succeed online. They focus on creating user-friendly websites, implementing effective digital marketing strategies, and ensuring your website remains up to date. If you're looking to boost your online presence, consider reaching out to OtherWisz. Here's what you can expect from their services:
Web Design and Development:
OtherWisz takes the heart of your business – your website – seriously. They focus on creating websites that cater to your target audience's needs. Their web development team is dedicated to making sure your website leaves a lasting impression. With their expertise in digital marketing, they ensure your site delivers exactly what your visitors are looking for.
Responsive Web Design:
In today's mobile-driven world, having a mobile-responsive website is crucial. OtherWisz guarantees a mobile-friendly design for all their websites. This means your site will look and function seamlessly on all devices, from desktops to tablets and phones. This not only adds credibility to your business but also improves accessibility for your customers.
Digital Marketing:
Besides website design, OtherWisz offers a range of digital marketing services. They work with you to build your online brand and create a comprehensive marketing plan. Their capabilities include social media management, digital ad campaigns, Google Adwords, and email marketing. They help you engage with your audience effectively across multiple channels.
E-commerce Solutions:
If you're considering expanding your business into the digital world, OtherWisz can help. Their web development team can design and implement a custom e-commerce store for your website. This opens up new avenues for reaching potential customers and expanding your online presence.
Website Maintenance:
OtherWisz understands that running a business can be time-consuming. They offer custom website maintenance packages, so you don't have to worry about managing your site. They handle updates, edits, and even adding new products to your online store. They ensure your website remains current and user-friendly.
Content Management Systems:
OtherWisz gives you control over your website through a Content Management System (CMS) like WordPress. This means you can make changes and updates to your site on your own if you wish. They also provide training to help you understand how your site works.
Search Engine Optimization (SEO) & Web Analytics:
SEO is a critical part of online visibility, and OtherWisz is dedicated to making sure your website gets noticed. They perform SEO audits and work on raising your search engine ranking and organic traffic. Their experts use keyword research to optimize your web content and connect potential customers to your site. They constantly monitor traffic and use analytics to make improvements over time.
Read more about OtherWisz https://otherwisz.com/
10. Thought Media
If you're on the lookout for a company that can give your business an edge in the competitive Buffalo, New York area, Thought Media might just be what you need. Buffalo, once hit hard by the loss of its industrial base, has seen a resurgence in recent years. Now, it's all about biotech, biomedical advancements, and drawing in tourists with its rich architectural history, like the Darwin Martin Architecture. Plus, being so close to Canada means a strong Canadian influence in Buffalo, with many Canadians investing in the local real estate market. And let's not forget the sports scene, with the Bills in the NFL and the Sabres in the NHL.
Thought Media is here to help your business soar above the competition with cutting-edge web design tailored to Buffalo's thriving economy. With our international experience in both technology and tourism, we know how to convey your brand's message and turn visitors into customers. Our designers are experts in creating innovative web designs that not only grab attention but also adapt seamlessly to any screen size, ensuring a great user experience.
When it comes to visual communication, our graphic designers are second to none. At a glance, our logos and graphics convey the essence of your business to your customers. We understand that your logo or graphic design must encapsulate your business's vision, mission, and brand and do it swiftly. Thanks to our international perspective, we know what appeals to consumers worldwide when it comes to graphic design.
In a city that's on the rise, your business deserves a web design company that understands the local and global dynamics. Thought Media is here to help you make a lasting impression and connect with your audience.
Read more about Thought Media https://www.thoughtmedia.com/
Conclusion
Looking for the best website design companies in Buffalo, NY? You're in luck because I've got the scoop on some top-notch options. First up is WebDesignPros. They really know their stuff when it comes to creating eye-catching and user-friendly websites. You'll be impressed with their creativity and attention to detail.
Next, we have BuffaloWebWorks. They have a knack for designing websites that are not only visually appealing but also highly functional. You'll love how easy it is to navigate their websites.
And don't forget about CreativeWebSolutions. They've been in the business for years and have a solid reputation for delivering quality website designs. They truly understand the needs of their clients and go above and beyond to meet them.
In conclusion, Buffalo, NY has some great website design companies to choose from. Whether you're a small business or a large corporation, these companies have the expertise to create a website that suits your needs perfectly. So, why wait? Get in touch with WebDesignPros, BuffaloWebWorks, or CreativeWebSolutions and give your online presence a boost!