Best  AI SEO Tools to Inspire Content Ideas in 2023
In this blog, we're going to start by understanding why coming up with good ideas for your online content is super important. You'll also learn how artificial intelligence, or AI for short, plays a big role in helping you generate these ideas. Plus, I will give you a sneak peek into the top AI SEO tools that can make your content creation journey way easier in 2023.
As a digital marketing expert and having worked with a digital marketing agency for a couple of years, I personally use these AI tools and I want to be aware of these tools to other professionals like you. So, let's dive in and explore the world of AI-powered content inspiration!
Understanding AI in SEO
When we talk about AI in SEO, we're referring to Artificial Intelligence in Search Engine Optimization. It's like having a smart assistant for your website. Let's break it down:
What is Artificial Intelligence in SEO?
Artificial Intelligence, often called AI, is the technology that makes computers smart. In SEO, it means using clever computer programs that can learn and improve on their own. These programs can help your website do better on search engines like Google.
How AI Enhances SEO Strategies
AI takes SEO to the next level. It can analyze tons of data faster than any human. This helps in finding the best keywords, understanding what your audience wants, and even suggesting improvements for your website.
Benefits of Using AI in Content Creation
AI is a content wizard. It can inspire you with fresh content ideas, suggest keywords that people are searching for, and even help you organize your content better. This means you can create content that's not just good but also loved by search engines.
Imagine having a super-smart SEO buddy who guides you on how to make your website shine. These best AI SEO tools are like that buddy. They can give you ideas, show you where to improve, and help you reach a bigger audience. So, if you're looking for inspiration, struggling to expand your reach, or just want to make your content even better, these tools have got your back.
Best AI SEO Tools to Inspire Content Ideas in 2023
1. HIX.AI
If you're looking for a versatile AI writing assistant that covers all your content needs, HIX.AI is your go-to solution. HIX.AI is an all-in-one AI writing copilot that offers a wide range of features to make your AI-driven content journey seamless.
HIX Editor: This feature provides an intuitive interface where you can easily compose, edit, format, or export text. It's as simple as typing "//" to get started. With over 120 tools at your disposal, you have everything you need to enhance your content. If you ever find yourself stuck, the AI chat assistant is there to assist you. Whether you want to brainstorm fresh ideas, refine your text and grammar, make sentences more concise, or translate content into over 30 languages, this AI document editor has got you covered.
HIX ArticleGPT: Need assistance with long-form content? HIX ArticleGPT is designed to inspire you throughout the writing process. It not only generates unique content with up-to-date information but also optimizes it for search engines. Whether you're crafting product descriptions or revamping your homepage copy, this tool seamlessly incorporates your specified primary and secondary keywords into the text, enhancing its discoverability by your target audience.
Accuracy and Trustworthiness: HIX.AI takes content accuracy seriously. It can integrate relevant information and citations from trusted sources or materials you provide, setting it apart from other AI tools that often produce generic or outdated content based on their training data.
Pricing: HIX.AI offers a variety of pricing plans to cater to your specific needs. Plus, you can start with a free trial to see how it suits your requirements.
With HIX.AI, you have a reliable AI companion that can assist you in various aspects of content creation, from editing to generating SEO-optimized articles. Say goodbye to content creation challenges and hello to a more efficient and productive writing experience.
Use of HIX.AI
Essay Writer
Essay Checker
Essay Rewriter
Essay Hook Generator
Essay Extender
Essay Introduction Generator
Essay Outline Generator
Research Paper Summarizer
Case Study Summarizer
Essay Conclusion Generator
Thesis Statement Generator
Research Title Generator
Essay Shortener
Paraphrasing Tool
Article Rewriter
Summarizer
Sentence Expander
Grammar Checker
Proofreader
Paragraph Rewriter
Bio Generator
Blog Ideas & Title Generator
Blog Introduction Generator
Blog Outline Generator
Blog Conclusion Generator
Meta Description Generator
SEO Meta Title Generator
Sentence Rewriter
Reworder
Paragraph Generator
Headline Generator
Poem Generator
AI Book Writer
AI Story Generator
Plot Generator
Press Release Generator
Answer Generator
People Also Ask Generator
Random Question Generator
Call to Action Generator
Title Generator
Poem Summary Generator
Story Summarizer
Passages Summarizer
Article Summarizer
Bullet Point Generator
About Us Generator
Terms and Conditions Generator
Refund Policy Generator
Privacy Policy Generator
Titlecase Converter
Author Bio Generator
Professional Bio Generator
Real Estate Bio Generator
Character Bio Generator
Press Release Introduction Generator
Synonyms Generator
Spell Checker
Punctuation Checker
Word Counter
Explain it to a 5th Grader
Continue Writing
PDF Summarizer
Video Summarizer
Hook Generator
Sentence Shortener
Plagiarism Checker
Email Generator
Email Subject Line Generator
Cold Email Generator
Marketing Email Generator
Thank You Letter Generator
Welcome Email Generator
Love Letter Generator
Sales Letter Generator
Recommendation Letter Generator
Resignation Letter Generator
Termination Letter Generator
Fundraising Letter Generator
AI Response Generator
Hashtag Generator
Tweet Generator
Facebook Ad Copy Generator
Script Generator
Company Bio Generator
Linkedin Headline Generator
Google Ad Copy Generator
Instagram Caption Generator
Tiktok Caption Generator
Instagram Bio Generator
Snapchat Bio Generator
Facebook Bio Generator
Twitch Bio Generator
LinkedIn Bio Generator
Pinterest Bio Generator
Twitter Bio Generator
Tiktok Bio Generator
Tiktok Hashtag Generator
Youtube Hashtag Generator
Quora Answer Generator
Youtube Description Generator
TikTok Script Generator
YouTube Script Generator
YouTube Title Generator
Webinar Title Generator
Podcast Script Generator
Tinder Bio Generator
Bumble Bio Generator
Video Topic Ideas Generator
Video Title Generator
Ad Copy Generator
Product Description Generator
Amazon Product Description Generator
Etsy Product Description Generator
Testimonials / Reviews Generator
Store Description Generator
Flipkart Product Description Generator
Real Estate Slogan Generator
Funny Slogan Generator
Poster Slogan Generator
Party Slogan Generator
Rhyming Slogan Generator
T Shirt Slogan Generator
Food Slogan Generator
Family Slogan Generator
Restaurant Slogan Generator
Agriculture Slogan Generator
Calligraphy Slogan Generator
Beauty Slogan Generator
Insurance Slogan Generator
Nature Slogan Generator
Technological Slogan Generator
App Slogan Generator
Eco Friendly Slogan Generator
Energy Drink Slogan Generator
Education Slogan Generator
Wedding Slogan Generator
Youtube Slogan Generator
Pet Sitting Slogan Generator
Charity Slogan Generator
Communication Slogan Generator
Jewelry Slogan Generator
Skincare Slogan Generator
Health Slogan Generator
Car Slogan Generator
Social Media Slogan Generator
Fast Food Slogan Generator
Kids Slogan Generator
Perfume Slogan Generator
Book Slogan Generator
Marketing Slogan Generator
Ice Cream Slogan Generator
Startup Slogan Generator
Travel Agency Slogan Generator
Fitness Slogan Generator
Green Slogan Generator
Tie Dye Slogan Generator
Clothing Brand Slogan Generator
Product Slogan Generator
Construction Company Slogan Generator
Shoe Slogan Generator
Vegan Slogan Generator
Digital Marketing Slogan Generator
Fashion Slogan Generator
Digital Slogan Generator
Food Truck Slogan Generator
Tea Slogan Generator
Mobile APP Slogan Generator
Music Slogan Generator
Christmas Slogan Generator
Boutique Slogan Generator
Plant Slogan Generator
Design Slogan Generator
Cleaning Slogan Generator
Happy Slogan Generator
Motto Slogan Generator
Cool Slogan Generator
Snow Cone Slogan Generator
Space Slogan Generator
Advertisement Slogan Generator
Digital Art Slogan Generator
Pizza Slogan Generator
Makeup Slogan Generator
Sports Slogan Generator
Global Slogan Generator
Event Slogan Generator
Computer Slogan Generator
Photography Slogan Generator
Logistics Slogan Generator
Aesthetic Slogan Generator
Corporate Slogan Generator
Simple Slogan Generator
Magazine Slogan Generator
Gaming Slogan Generator
Spa Slogan Generator
Boat Slogan Generator
Pet Slogan Generator
Drink Slogan Generator
Future Slogan Generator
Bar Slogan Generator
Hair Slogan Generator
Lip Gloss Slogan Generator
Smoothie Slogan Generator
Accessory Slogan Generator
Media Slogan Generator
Plumbing Slogan Generator
Teeth Whitening Slogan Generator
Tattoo Slogan Generator
Luxury Slogan Generator
Life Coach Slogan Generator
Wellness Slogan Generator
Candy Slogan Generator
Honey Slogan Generator
Service Slogan Generator
Video Game Slogan Generator
Tanning Salon Slogan Generator
Automotive Slogan Generator
Handmade Slogan Generator
Handyman Slogan Generator
Home Care Slogan Generator
Therapy Slogan Generator
Baby Store Slogan Generator
Yoga Slogan Generator
Coffee Slogan Generator
Candle Slogan Generator
Cafe Slogan Generator
Electronics Slogan Generator
Home Inspection Slogan Generator
Beer Slogan Generator
Engineering Slogan Generator
Hotel Slogan Generator
Home Decor Slogan Generator
Lash Slogan Generator
Web Designing Slogan Generator
Security Slogan Generator
Swimsuit Slogan Generator
Bakery Slogan Generator
Olay Slogan Generator
Dessert Slogan Generator
Your World Delivered Slogan Generator
Chocolates Slogan Generator
Cotton Slogan Generator
Organic Products Slogan Generator
Furniture Store Slogan Generator
Legal Slogan Generator
Mobile Slogan Generator
Resort Slogan Generator
Retro Slogan Generator
Para Lingerie Slogan Generator
Auction Slogan Generator
Cake Slogan Generator
Nutrition Slogan Generator
Car Dealership Slogan Generator
Tailor Slogan Generator
Interior Slogan Generator
Fancy Track Slogan Generator
Flower Shop Slogan Generator
Modern Slogan Generator
Wallet Slogan Generator
Thrift Store Slogan Generator
Tights Slogan Generator
Essential Oil Slogan Generator
Daycare Slogan Generator
Nail Care Slogan Generator
Sportswear Slogan Generator
Pastry Slogan Generator
Catering Slogan Generator
Toothpaste Slogan Generator
Bike Slogan Generator
Diamond Slogan Generator
Gym Slogan Generator
Retail Store Slogan Generator
Massage Slogan Generator
Cookie Slogan Generator
Bag Slogan Generator
Painting Slogan Generator
Cute Boutique Slogan Generator
Coffee Shop Slogan Generator
Bath Bomb Slogan Generator
Sandwich Slogan Generator
Wood Slogan Generator
Balloon Slogan Generator
Avocado Slogan Generator
Vintage Slogan Generator
Beach Slogan Generator
Architectural Slogan Generator
Hipster Slogan Generator
Kitchen Slogan Generator
Leather Slogan Generator
Game Slogan Generator
Tropical Slogan Generator
Bookkeeping Slogan Generator
Outdoor Slogan Generator
Oil Slogan Generator
Drone Slogan Generator
Fishing Slogan Generator
Lipstick Slogan Generator
Lawyer Slogan Generator
Juice Slogan Generator
Telecom Slogan Generator
Slime Slogan Generator
Apparel Slogan Generator
Dog Grooming Slogan Generator
Chic Slogan Generator
3D Printing Slogan Generator
Online Marketing Slogan Generator
Face Painting Slogan Generator
Garden Slogan Generator
Gift Slogan Generator
Bread Slogan Generator
Surf Slogan Generator
Sock Slogan Generator
Golf Slogan Generator
Embroidery Slogan Generator
Cupcake Slogan Generator
Hardware Slogan Generator
Hospitality Slogan Generator
Donut Slogan Generator
Dress Slogan Generator
Adventure Slogan Generator
Barber Slogan Generator
Girly Slogan Generator
Sweater Slogan Generator
Luggage Slogan Generator
Glass Slogan Generator
Sunglasses Slogan Generator
Bracelet Slogan Generator
Wine Slogan Generator
Toy Slogan Generator
Pawn Shop Slogan Generator
Babysitting Slogan Generator
Elegant Slogan Generator
Studio Slogan Generator
Store Slogan Generator
Graphic Design Slogan Generator
HIX Translate
Prompt Generator
Wedding Hashtag Generator
Bachelorette Hashtag Generator
Resume Summary Generator
Executive Summary Generator
Song Lyrics Generator
Speech Generator
Acronym Generator
Interview Question Generator
Movie Script Generator
Resume Bullet Point Generator
Job Description Generator
Active to Passive Voice Converter
Funeral Speech Generator
Food Description Generator
Fiverr Description Generator
Resume Bio Generator
Startup Ideas Generator
Mission Statement Generator
Marriage Proposal Generator
Personal Statement Generator
Retirement Wishes Generator
Resume Objectives Generator
Showcase your career goals with tailored resume objectives.
Article to Facebook
2. Semrush
Are you looking for a powerful tool to boost your SEO game in 2023? Well, meet Semrush! Semrush is a big name in the world of SEO, and it's here to help you shine online.
With Semrush, you get a bunch of SEO tools that are super handy. They help businesses and folks like you get noticed on the internet. But here's the cool part – Semrush isn't just your regular SEO tool; it's got AI smarts too!
Imagine this: You want your website to show up higher on Google. Semrush can help with that. It looks at your website and tells you how to make it better for Google and other search engines. It's like having a personal coach for your website!
But that's not all. Semrush has these smart tools that can help you write better stuff. Let's say you're writing a blog or posting on social media. Semrush's AI writing assistant can give you cool ideas. It makes sure your words are easy to read, and it even suggests keywords to make your content shine.
Now, here's the thing – Semrush is a bit pricey. So, it's often the go-to choice for businesses and professionals who are serious about their online game. If you want to level up your online presence, Semrush is your buddy.
So, if you're thinking about getting noticed on the web, Semrush might just be your secret weapon. Give it a try and watch your online presence soar!
3. Surfer
Surfer is a strong AI SEO tool designed to make your website rank higher on search engines. It does this by using smart technology called Natural Language Processing (NLP). The great thing about Surfer is that it works smoothly with popular website systems like WordPress. It offers a bunch of cool features that can really help you with your SEO game.
With Surfer's AI, you can create content more easily and make sure you're using the right keywords in your articles. You just put in the keywords you want to target, and Surfer helps you find useful links and information that you can include in your content. This makes your content more likely to show up when people search online.
Surfer also uses something called GPT-4, which is like a super-smart language model. It helps you optimize your content so that it works well with search engines. Plus, it figures out what questions your readers might have and helps you answer them. So, you can create content that's not just words on a page but actually means something to your audience.
Whether you're wondering which frequently asked questions to add, where to place images, or which other websites you should be keeping an eye on, Surfer has got you covered. It's like having an SEO expert right at your fingertips!
4. Alli AI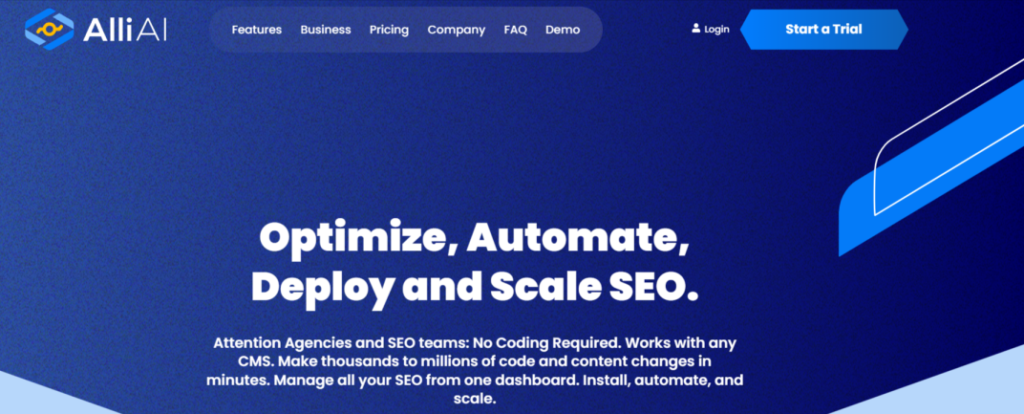 Alli AI is an exceptional AI SEO tool tailored to make managing on-page SEO for your website effortless. Here's how it can help you:
Simplified SEO Management: Alli AI simplifies the process of handling your website's SEO, saving you time and effort.
Comprehensive Features: It offers a wide array of features designed to enhance your website's SEO performance.
Effortless Optimization: With just one click, you can apply SEO changes across your entire website or focus on specific pages, including generating page titles, meta descriptions, and other essential content modifications.
Alli AI is your go-to tool for optimizing your website's SEO and boosting its performance.
5. WordLift
WordLift is one of the top AI SEO tools you should consider for boosting your website's performance in 2023.
What is WordLift?
WordLift is a tool that automates your SEO efforts to bring in more organic traffic. It doesn't just stop there; it also assists you in creating content that's highly relevant to your audience, ensuring they have a great user experience on your website.
How WordLift Helps You:
Improved User Experience: By using WordLift, you can keep your website visitors engaged for longer periods. When they find content that speaks to their interests, they are more likely to explore other topics, products, or services on your site.
Automatic Recommendations: WordLift provides automatic suggestions for links and contextual information that can boost your website's performance. This means you don't have to spend hours figuring out what keywords to focus on – WordLift does it for you.
Product Knowledge Graph: If your website features a lot of products, WordLift's product knowledge graph is a valuable feature. It helps you organize and connect all the products in your store. This structured approach makes it easier for search engines to understand your offerings, potentially improving your search rankings and visibility.
In summary, WordLift is a powerful tool that can enhance your SEO strategy, keep users engaged, and make your products more visible on search engines. It's definitely worth considering in your quest for better SEO in 2023.
How Leagron Can Help?
We're a digital marketing company driving measurable results through digital marketing, SEO, social media management, and web design services.
Leagron, a digital marketing company, can be a valuable partner for you in your quest to make the most of the best AI SEO tools in 2023. They understand that creating inspiring content ideas is crucial for your website's success. Here's how Leagron can assist you:
Expert Guidance: Leagron has a team of experts who are well-versed in the latest AI SEO tools. They can provide you with guidance on which tools would be the best fit for your specific needs.
Tool Selection: Choosing the right AI SEO tool can be daunting. Leagron can help you select the tool that aligns with your content goals, ensuring you get the most value out of your investment.
Training and Support: If you're new to AI SEO tools, Leagron offers training and ongoing support to help you get started and make the most out of these tools.
Content Strategy: Leagron can help you develop a content strategy that incorporates AI-generated ideas seamlessly, ensuring your content remains engaging and relevant.
Monitoring and Improvement: They can assist in monitoring the performance of your content and making necessary improvements based on AI-driven insights.
Final Words
In conclusion, after exploring the world of AI SEO tools to inspire content ideas in 2023, you now have a better understanding of how these tools can supercharge your content creation efforts. You've learned about the importance of AI in SEO and how it can enhance your strategies.
You've also discovered the top AI SEO tools available this year, each with its unique features and benefits. With this knowledge, you're better equipped to make an informed choice when selecting the right tool for your needs.
Furthermore, you've seen real-world examples of how AI-generated content can lead to improved SEO rankings, and you've gained insights into integrating AI-generated ideas into your content while maintaining a human touch.
However, it's important to be aware of the challenges and limitations that come with using AI SEO tools and to address any ethical concerns. Always monitor your content's success through key metrics, and don't forget to keep learning and adapting your strategies to stay ahead in the ever-evolving world of SEO.
As you move forward, remember that AI SEO tools are a valuable resource, but your creativity and expertise are irreplaceable. With the right balance, you can harness the transformative power of AI to create outstanding content that resonates with your audience and boosts your SEO efforts. So, go ahead and explore these tools, but always remember that you're the driving force behind your content's success. Good luck on your content creation journey!