Best Website Design Companies in Delhi – A List for 2023
If you're on the hunt for the top website design companies in Delhi in 2023, you've come to the right place. Building a powerful online presence is crucial in today's digital age, and your website is often the first impression you make on potential customers. So, it's essential to choose a website design company that can bring your vision to life and help your business thrive.
In this comprehensive guide, we've compiled a list of the best website design companies in Delhi for 2023. Whether you're a startup looking for a fresh website or an established business seeking a revamp, this list will help you make an informed decision. Let's dive right in and explore the top web design experts in Delhi who can turn your online dreams into reality.
Best Website Design Companies in Delhi
1. Webpulse Solution (P) Limited
Established in 2011, Webpulse Solution (P) Limited has been a prominent figure in the world of website designing, digital marketing, and branding for over a decade. They call New Delhi, India, their home base.
What sets Webpulse apart? Well, for the past seven years, they've consistently clinched awards for being the Best Website Designing Company in India, the Best SEO Company in India, and the Best Digital Marketing Company in India. These accolades have come from both national and international corporate award ceremonies, showcasing their unique approach to digital marketing and their commitment to excellent customer service.
So, what's the secret to their success? It's their stellar team. Webpulse boasts a highly experienced and talented lineup of professionals, including Front End Developers, Web Developers, Digital Marketing Experts, Social Media Specialists, Content Writers, and a dedicated Customer Support Team.
Since their inception in 2011, Webpulse has catered to over 3000 Micro, Small, and Medium Enterprises, not only in India but also abroad. They've made a name for themselves by providing ROI-focused SEO services, social media management services, and digital marketing services.
Here's a glimpse of what their SEO team specializes in:
Keyword Research: Identifying the right keywords to boost your online presence.
Competitor Research: Keeping an eye on the competition to stay ahead of the game.
In-depth Site Analysis: Ensuring your website is optimized for peak performance.
Content Duplicacy: Eliminating duplicate content for better search engine rankings.
Keyword Density Check: Maintaining the right keyword balance for SEO success.
Initial Ranking Report: Establishing a baseline for improvement.
On-Page Optimization: Fine-tuning meta tags, SEO-friendly content, images, links, and internal linking.
Technical SEO: Enhancing site speed, checking webmaster/search console, crawling and indexing, server errors, robots.txt, meta robots tags, XML sitemaps, data structure, web page architecture, and fixing broken links.
Off-Page Optimization: Building domain authority and backlinks to boost your rankings.
Social Bookmarking and Company Profile Creation: Maximizing your online presence.
Video Submission, PDF Submission, Blog Writing and submission, Article Writing & Submission, and PR Writing & Submission: A comprehensive content strategy to enhance your visibility.
Monthly Reporting: Keeping you in the loop with progress reports.
Search Engine Rank Report and SEO Activity & Google Analytic Reports: Ensuring you have a clear picture of your online performance.
If you're on the hunt for the best website design company in Delhi in 2023, Webpulse Solution (P) Limited is a strong contender. Their decade-long track record of excellence and a skilled team in various facets of digital marketing make them a top choice for businesses looking to make their mark online. So, why wait? Give your business the digital boost it deserves with Webpulse.
Read Also: Best AI SEO Tools to Inspire Content Ideas in 2023
2. CyberWorx Technologies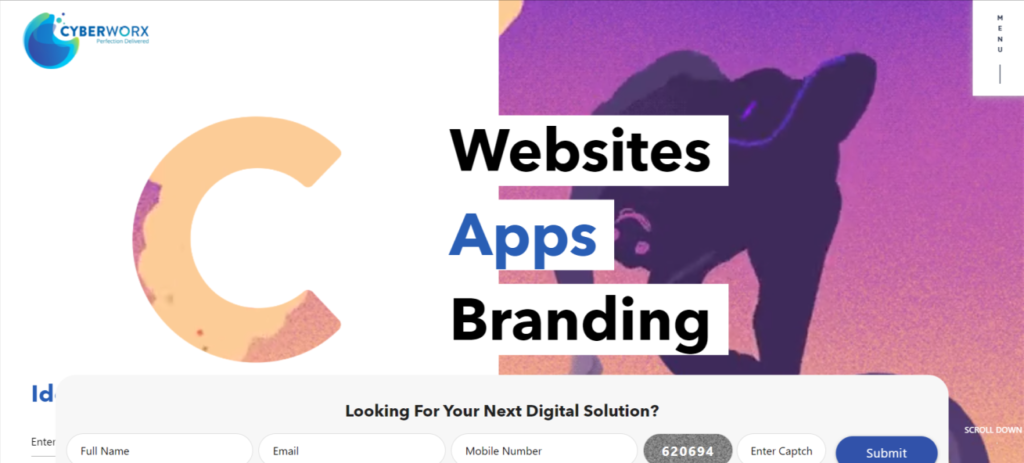 If you're seeking a globally renowned website designing company in Delhi with a penchant for creativity and professionalism, look no further than CyberWorx Technologies. These tech-savvy folks have been in the game since 2012 and have consistently delivered top-notch services in Website Designing, Web Development, Digital Marketing, Application Development, and more.
At the heart of CyberWorx Technologies is a team of dedicated Tech Hunters who spend their time envisioning the next big design move for your digital brand development. They're not just experts; they're friendly thinkers, professional website designers, top-notch web developers, and tech enthusiasts who are always on the lookout for innovative solutions.
Whether you're a corporate giant or a budding startup, CyberWorx Technologies is the Website Designing Company in Delhi you can trust. Their portfolio speaks volumes about their capabilities, and they've got a knack for crafting websites that are not only functional but also bursting with personality and attention to detail.
But why should you choose CyberWorx Technologies for your web design needs in 2023? Here are a few reasons:
Expertise: With over a decade of experience in the industry, CyberWorx Technologies knows the ins and outs of website design and development. They stay updated with the latest trends and technologies to ensure your website is at the cutting edge.
Comprehensive Services: Whether you need a brand-new website, a mobile application, or e-commerce solutions, they've got you covered. Their wide range of services means you can find everything you need under one roof.
Client-Centric Approach: CyberWorx Technologies listens to your needs and adapts their services to meet your specific requirements. They work closely with you throughout the design process to ensure your vision becomes a reality.
Proven Track Record: Their impressive portfolio includes work for diverse clients, from non-profits to growing businesses. Their ability to cater to various industries is a testament to their versatility and skill.
Ready to take your online presence to the next level in 2023? Head over to CyberWorx Technologies' official website and connect with their consultants. They're eager to turn your digital dreams into reality.
In a world where your website is often the first point of contact with your audience, you need a design partner you can rely on. CyberWorx Technologies is one of the leading Website Designing Companies in Delhi that can help you make a lasting impression in the digital realm. So, why wait? Get in touch with them today, and let your online journey begin!
Read Also: Best Web Design Companies in Faridabad (2023)
3. Art Attack
Looking for the best website design company in Delhi for 2023? Well, you're in luck because Art Attackk has your back! When it comes to boosting your online presence and making your website stand out with that irresistible "Wow Factor," Art Attackk knows exactly how to make it happen.
You might wonder, what can a website really do for your business? The answer lies in its design, and that's where Art Attackk excels. When it comes to creating visually stunning websites, you can trust Art Attackk blindly. Your trust is everything to them, and they even pinky swear to keep it sacred!
Art Attackk has been in the game since 2009, accumulating nearly 11 years of experience as a full-service web design, development, and digital agency. They've worked with clients in Delhi, India, and beyond, consistently delivering outstanding results.
Here's what Art Attackk specializes in:
eCommerce Business Solutions: If you're in the eCommerce world, Art Attackk is your ideal partner to boost online sales and take your business to new heights.
Web Designing: Need a website that not only looks great but also captivates your audience? Art Attackk has you covered.
Web Development: Let their skilled developers breathe life into your website, ensuring it functions flawlessly.
Branding: Art Attackk can help you create a strong brand image that resonates with your target audience.
Internet Marketing Services: From SEO to PPC, they've got all your online marketing needs covered.
Art Attackk isn't confined to Delhi alone; they've spread their wings all across India. While they may not be 'Mr. Do-it-all,' they do have some incredibly talented friends who help them ensure everything is done to perfection.
So, if you're ready to take your website from cool to the coolest in 2023, it's time to choose Art Attackk as your trusted website design company in Delhi. Your online success is their ultimate goal, and they're here to make it happen. Contact them today and let's create something amazing together!
Read Also: Best SEO Strategies for Immigration Consultants
4. Website Vale
When it comes to finding the best website design companies in Delhi for 2023, Website Vale stands out as a prominent choice. Established in 2009, Website Vale has consistently delivered top-notch web design services, particularly in South Delhi. If you're in search of a web design partner that combines experience and innovation, this is the company to consider.
Website Vale boasts a team of seasoned web designers who are dedicated to crafting comprehensive and eye-catching websites. They offer cost-effective programming and design solutions that cover every aspect of website development. What truly sets them apart is their commitment to providing exceptional customer service. Clients can expect a seamless blend of technical expertise and personalized attention.
As a leading web design company in India, Website Vale goes beyond just web design. They offer a diverse range of solutions, including software development, internet marketing, mobile application development, ecommerce development, and more. Their services cater to businesses across various industries, ensuring that they meet the unique needs of each client.
Website Vale prides itself on being a one-stop shop for top-tier web solutions. Their expertise lies in the convergence of technology and creativity, resulting in web designs that are nothing short of exceptional. Their website designs are not only visually striking but also strategically aligned with your brand, products, and goals. In a competitive digital landscape, Website Vale ensures that your website stands out in every possible way.
One of the standout features of Website Vale is their ability to develop various types of websites, including flash-based sites, content management system (CMS) websites, ecommerce platforms, dynamic websites, corporate sites, and static sites. Whatever your company's requirements may be, Website Vale has the expertise to deliver the best website designs, all at highly affordable rates.
If you're in Delhi and on the hunt for the best website design company in 2023, Website Vale should be at the top of your list. With their experienced team, innovative approach, and commitment to excellence, they have earned their reputation as a top-notch web design company in India. Your search for a web design partner that can take your online presence to the next level ends here.
Also Read: How to Verify Your Tumblr Blog in Google Search Console
5. Smartech Interactive Pvt. Ltd.
When you're on the hunt for the perfect web design partner, you want someone who understands that your website is the face of your brand. It's that first impression that can make or break your relationship with potential customers. That's where Smartech comes in. We're talking about a website designing company that truly gets it, and we're here to give you the lowdown.
Smartech sees website designing as an art form, a way to bring your unique vision to life. They don't just create websites; they create platforms for your ideas to shine. In other words, they've got your back when it comes to turning your concepts into a powerful digital presence. If you're looking for one of the best website designing companies in Delhi, you might just have found it.
Now, why should you care about choosing a professional website design company like Smartech? Well, it's simple – they've been in the game since 1998, which means they've got the experience to help your brand make waves on a global scale. And we all know that global recognition equals more profits for you.
Smartech's creative vision is the secret sauce behind their exceptional website designs, which do more than just look good – they solidify your online presence. As a website designing company in Delhi, they've got the tools to cater to every industry. They understand the importance of responsive design, ensuring your website works seamlessly on any device. No more worrying about pixelation, speed, or resolution – they've got you covered.
With over a decade of experience and a treasure trove of technical expertise, Smartech consistently exceeds their clients' expectations. A good-looking website is just the tip of the iceberg. It's also a powerful tool for your business growth. Smartech knows that a user-friendly website is your preferred interface for your customers. They want your visitors to be excited about exploring your website, and they take care of that at every step of the design process.
Smartech's approach takes into account factors like your target markets, ideas, goals, budget, and content needs. They tailor their efforts to drive sustainable growth for your company. With Smartech Interactive Web Design Company in Delhi, you're not just getting a website; you're getting a world-class design that ensures your brand gets the attention it deserves.
So, in a nutshell, if you're ready for your business to reach new heights, Smartech Interactive Pvt. Ltd. is the best web design company in Delhi to make it happen. Your brand deserves nothing but the best, and Smartech is here to deliver.
Read Also: Best AI Copywriting Tools (Free + Paid List)
6. Future Gen Apps
FutureGenApps: Crafting Digital Success Stories
In a world where everything is going digital, having a well-designed website is the cornerstone of your digital marketing strategy. It's your virtual storefront, the face of your business in the online world. FutureGenApps, a creative web designing agency in Delhi, understands the significance of a powerful online presence. They offer a wide range of website design services that cater to all your needs.
What FutureGenApps Brings to the Table:
Informative Websites: If you want to convey your message and engage with your audience effectively, FutureGenApps can design an informative website that captures your essence.
Dynamic Websites: Keep your content fresh and engaging with dynamic websites that adapt to your changing needs.
Custom Website Designs: Your business is unique, and so should be your website. FutureGenApps can create a tailor-made solution that perfectly fits your brand.
E-commerce Websites: In the age of online shopping, having an e-commerce presence is essential. FutureGenApps can help you set up a seamless online store.
Mobile Responsiveness: With an increasing number of users accessing websites on mobile devices, FutureGenApps ensures that your site provides an excellent user experience across all screens.
Your website is more than just an online platform; it's a gateway to endless possibilities. In a market filled with competition, taking your business online is the way forward. It's about capturing new quality leads, expanding your reach, and staying ahead of your rivals.
With FutureGenApps by your side, you're not just getting a website; you're getting a partner in your digital journey. Their team of creative minds is dedicated to turning your business aspirations into reality. They understand the evolving digital landscape and will craft a website that not only meets the current standards but also sets you up for future success.
So, why wait any longer? The digital world is calling, and FutureGenApps is ready to answer. Don't miss out on the incredible opportunities the online space has to offer. Contact FutureGenApps today and embark on your journey towards a brighter, more successful future for your business in 2023. Your dreams are just a click away!
Read Also: Free Keyword Research Tools 2023
7. Olive Global
We all understand the importance of having a strong online presence. But what's often overlooked is the significance of a well-structured website design that accurately represents your business. It's not just important; it's critical. Your website's design can either make or break your business because it's essentially your face on the internet. It conveys a lot about your brand to your target audience. And if done right, your website design can transcend geographical boundaries and expand your reach.
Olive Global, established in 2012, is a renowned website design company in Delhi that's all about enhancing the online success and growth of its clients. Whether you're grappling with technical challenges or facing visual glitches, Olive Global's team of web designers, web developers, and project managers are dedicated to pushing the boundaries of creativity and innovation to help you reach your goals.
What truly sets Olive Global apart is its exceptional team of experts. They specialize in various facets of web design and are committed to providing their services in a straightforward, supportive, informative, and adaptable manner. They understand that the fusion of design and technology is what prompts action and encourages conversion, and they excel at bringing this synergy to life.
If you're on the lookout for a website design company in Delhi that can elevate your online presence in 2023, Olive Global is the name to remember. With their unwavering dedication, expertise, and commitment to excellence, they're here to help you make a mark on the web. Don't miss the chance to collaborate with a team that can genuinely make a difference in your online success. Contact Olive Global today and embark on a journey towards a more impactful online presence!
Read Also: Link Farming in SEO: What Is Link Farm and Why Google Hate?
8. Web Designing Lab
If you're on the hunt for the best website design companies in Delhi in 2023, look no further than Web Designing Lab (WDL). Established back in 2009, WDL has solidified its reputation as the go-to website designing company in the heart of Delhi, offering a steadfast commitment to quality and the creation of genuine value for its clients.
Over the years, WDL has steadily grown its client base, boasting an impressive 800+ clients from all around the world. This isn't just a testament to their expertise but also a reflection of the strong relationships they've cultivated, relationships that consistently yield outstanding results.
WDL is your one-stop destination for all things web design and development. Whether you need a dynamic website to captivate your audience or an eCommerce solution to boost your online sales, they've got you covered. They're well-versed in the latest technologies and offer trending digital marketing services to give your online presence a significant boost. They firmly believe that creating remarkable online experiences is the most effective way to connect with your target audience.
One of the standout features of Web Designing Lab is their commitment to offering their services at reasonable rates. They understand the importance of your vision and won't let financial constraints stand in the way of bringing it to life. Their quotes are transparent, and all prices are clearly outlined to avoid any confusion. Moreover, they actively encourage client participation, fostering a collaborative approach to ensure your website reflects your unique vision.
At WDL, they have a team of seasoned professionals who possess in-depth knowledge of various industries. They understand that a website isn't just a digital presence; it's a crucial aspect of your brand identity. To ensure the highest quality, they've assembled a dedicated team of experts who work tirelessly to provide top-notch website design services with remarkable speed. This commitment to excellence is what sets them apart as the best web designing company in Delhi.
The WDL team is a dynamic mix of creative and logical minds, working in perfect harmony. Their talent shines through in their ability to elevate both the aesthetics and functionality of your website. Prepare to be impressed by the sheer creativity employed by WDL, making them one of the leading website designers in Delhi. Their innovative solutions will undoubtedly compel you to choose them as your online partner.
Web Designing Lab is a name you can trust. With their wealth of experience, commitment to quality, and dedication to client satisfaction, they've earned their status as the best in the business. Don't miss out on the opportunity to collaborate with this exceptional team and bring your online vision to life.
Read Also: How to Update My Google Business Listing
9. e-Definers Technology
e-Definers Technology: The Top Website Designing Company in Delhi
A Brand's Voice, A Brand's Value
Established in 2006, e-Definers Technology has carved a niche for itself as the best website designing company in Delhi. What sets them apart? It's their deep understanding of your brand's voice and value. They don't just create websites; they craft intelligent designs that resonate with your brand's essence. And here's the best part – they're not here to drain your wallet; they're here to elevate you into a brand powerhouse.
Ingredients for Success
A successful website is like a recipe – it needs the right ingredients. And e-Definers Technology knows this all too well. Whether you're looking for more leads, boosted sales, or higher page views, their websites have it all. But here's the kicker – they don't play around with their designs. Everything goes through rigorous testing to ensure it's top-notch. In fact, most of the websites they've created are already ranking high on Google.
A Streamlined Process
One thing you'll appreciate about e-Definers Technology is their streamlined process. From the initial design concept to the final execution and even beyond, they remain true to their convictions. Their team takes immense pride in what they produce, and it shows in their work.
Talent Beyond Measure
Their team consists of talented designers and expert developers. These folks have years of experience under their belt, and it shows in the pixel-perfect, clean, and SEO-optimized websites they create. You won't just get a website; you'll get a work of art that's visually appealing and functional.
A Wealth of Experience
When it comes to web design, e-Definers Technology has a wealth of experience. They've crafted one of the most comprehensive and sophisticated strategies to date. This means you're not just hiring a company to make a website; you're partnering with experts who know the ins and outs of web design like the back of their hand.
So, if you're on the hunt for the best website design company in Delhi in 2023, put e-Definers Technology on your radar. With their commitment to your brand's voice, value, and success, you can't go wrong. Your website will be in capable hands, and you'll soon reap the rewards of their expertise.
10. Brandhype
Established in 2014, Brandhype.in has earned its reputation as a top-notch web development company in the heart of Delhi. When it comes to digital marketing, the first and most crucial step for any brand is to craft an impressive and functional website. Your website is the online face of your brand, and its significance cannot be overstated.
As one of Delhi's leading web design companies, Brandhype offers a comprehensive range of website development services tailored to meet your unique needs. From website design to SEO, we've got all aspects of web development covered. Our commitment to transparency and our team of experts are what set us apart as one of the finest web development companies in Delhi.
So, what exactly can you expect from our web design services? Let's delve into the details:
Website Pages: Whether you're running an e-commerce store or a company website, you can count on our skilled team to create every page of your site. We excel at crafting informative web pages that cater to your target audience.
Customized Website Design: We understand that your website should reflect the essence of your brand. That's why our website design services offer multiple style options. Whether you prefer a simple yet attractive look, a more moderate styling, or a world-class design, we encourage you to share your style preferences with us so our top-notch team can craft a custom website that aligns perfectly with your business identity.
SEO Optimization: Your website's visibility in search engine results is crucial. Our team ensures that your website adheres to the best SEO practices. Higher rankings for relevant search queries mean more visibility among your target audience. This increased visibility can drive more traffic to your site, leading to more inquiries, purchases, and store visits. We don't just make your website look good; we also work to rank it well in search engine results.
Website Copywriting: To maximize results, we offer website copywriting services. Our specialized team of copywriters can create engaging content that resonates with your brand and converts website visitors into loyal customers. Plus, as part of our website copywriting services, we optimize the content for SEO, ensuring that your website ranks even higher in search results.
Responsive Website Design: In today's mobile-driven world, a responsive, mobile-optimized website is essential. Most users access the internet via mobile devices, making it imperative that your brand provides a seamless mobile experience. Responsive design isn't just good for user experience; it's also a best practice for SEO. Google now prioritizes mobile-first indexing, meaning websites that aren't mobile-friendly could see their search rankings suffer. Whether you need to build a new website from scratch or update an existing one to be responsive, we've got you covered. Our responsive design ensures you can capture relevant leads and expand your customer base.
E-commerce Website Development: Our team specializes in creating effective B2B and B2C portals. We design high-quality enterprise systems that are secure and user-friendly. Whether you're a small business or a large corporation with vast amounts of data, we have the perfect design solution to help you manage your organization efficiently.
At Brandhype, we're dedicated to providing you with a website that not only looks good but also delivers results. Your website is your brand's digital storefront, and we're here to ensure it's both attractive and effective. When it comes to website design and development in Delhi in 2023, Brandhype is your trusted partner.
Final Words
Choosing the right website design company in Delhi is a crucial step in ensuring your online success. Each of the companies on our list has its unique strengths and specialties, so it's essential to consider your specific requirements and budget.
Take the time to research and reach out to these companies, request quotes, and ask for portfolios. By doing so, you can make an informed decision and select the best website design company in Delhi for your needs in 2023.
Remember, your website is often the first impression customers have of your business, so investing in a professional design is a smart move. Good luck with your web design journey in Delhi!