Best Web Design Companies in Faridabad (2023)
Are you looking for a web design company in Faridabad to create a website tailored to your specific needs and preferences? In this article, I am going to tell you about 10+ top web design companies in Faridabad, India that are building websites involving various technical aspects such as coding, responsive design, search engine optimization (SEO), and website speed optimization. I have also added a few other information about these companies that will help you in finding the right web design company in this location.
So without getting late let's explore these companies before hiring one of them for your website design project. This list will help in hiring a web design company, to save your valuable time that can be better utilized in focusing on your core business activities.
List of Best Web Design Companies in Faridabad 2023
1. VOCSO Technologies
VOCSO Technologies is a full-service digital agency that excels in creating custom web design, web development, and software development services across the globe. They also provide digital marketing solutions that deliver tangible results for businesses. With over a decade of industry experience, VOCSO has successfully assisted businesses of all sizes in achieving their digital goals by employing innovative and effective digital strategies.
What sets VOCSO apart is their commitment to crafting bespoke solutions tailored to each client's specific requirements. They recognize that no two businesses are alike, taking the time to understand each client's distinct objectives and challenges. This approach enables them to create customized solutions that yield desired outcomes, be it increasing website traffic, generating leads, or boosting sales.
VOCSO boasts a team of passionate experts who are deeply knowledgeable in all aspects of the digital landscape. Leveraging their expertise, they develop unique and innovative solutions that empower businesses to thrive in the digital realm. From designing and developing customized websites to crafting impactful digital marketing campaigns, VOCSO possesses the skills and experience to deliver exceptional results.
VOCSO's customer-centric approach has garnered them a strong reputation for consistently delivering projects on time, within budget, and to the highest quality standards. Their reliability in meeting client expectations has made them a trusted partner for businesses seeking to achieve their digital objectives. Whether you require comprehensive web design and development or a targeted digital marketing strategy, VOCSO is equipped to deliver exceptional outcomes.
If we talk about their focused services, their primary services are web design, web development, custom software development, and mobile app development.
| | | |
| --- | --- | --- |
| Website | Location | Founded |
| https://www.vocso.com/ | Plot No. 20, Industrial Area, Opposite Metro Pillar No 654, Mathura Road 16/2, Sector 27A, Faridabad, Haryana 121002 | 2009 |
2. WebMatriks Technologies
When it comes to finding a top-notch web design company in Faridabad, WebMatriks Technologies emerges as a frontrunner. This highly professional IT company has been instrumental in assisting business owners in achieving unprecedented success since its establishment. With a dedicated team of experienced IT professionals, WebMatriks Technologies guarantees hassle-free, high-quality services to clients worldwide. With major centers located in Faridabad and Dehradun, the company has positioned itself as a trusted name in the industry.
If we talk about WebMatriks Technologies services then they don't only provide web design services, in addition to being a leading SEO services company in India, provide a comprehensive range of excellent services tailored to businesses of all sizes. Their expertise encompasses search engine optimization (SEO), keyword research analysis, content creation and optimization, social media optimization (SMO), internet marketing, web development, and web designing services. These result-oriented solutions are designed to fuel the growth of online businesses and empower them to outperform their competitors.
WebMatriks Technologies caters to small business and mid-market clients, providing tailored solutions to meet their unique requirements. Their services are designed to propel businesses toward achieving their online goals and maximizing profitability.
| | | |
| --- | --- | --- |
| Website | Location | Founded |
| https://www.webmatriks.com/ | Plot No – 1, Ankit Plaza, Neelam Flyover, New Industrial Town, Faridabad, Haryana 121005 Faridabad, India 121001 | 2013 |
4. Creative Brain Web
As the leading web design company in Faridabad, Creative Brain Web focuses on creating websites that become powerful marketing assets for businesses. Recognizing that a website is often the first interaction customers have with a business in the digital realm, they strive to deliver a remarkable online experience that drives customer engagement. With over 75% of internet users assessing a company's credibility based on its website design, Creative Brain Web understands the importance of designing websites that seize growth opportunities for businesses.
In a highly competitive digital market, missing out on any opportunity can hinder a business from becoming a leader in its industry. Therefore, it is crucial to create a website that effectively represents your business. By collaborating with the best website development company in Faridabad, you can ensure that your website resonates with your business goals and assists in converting prospects into loyal customers.
In the virtual marketing landscape, every business, regardless of its niche or size, requires a website that ranks high in search results and entices targeted users to engage. This can be achieved through the development of an SEO-friendly website. A reputable website designing company, like Creative Brain Web, will optimize your website for search engine visibility, ensuring it appears prominently in search engine results pages (SERPs) when users search for products or services your business offers.
Creative Brain Web's team of professionals stays updated on the latest web design trends while prioritizing your customized requirements. They create websites that not only align with your interests but also cater to the preferences of your target audience. By utilizing top-notch resources, they transform simple designs into extraordinary ones that instantly capture users' attention. With the expertise of an experienced website design company in Faridabad, you can have a website that comprehensively addresses customers' questions about your business.
| | | |
| --- | --- | --- |
| Website | Location | Founded |
| https://creativebrainweb.com/ | B-488, 2nd Floor, Nehru Ground, New Industrial Township, Faridabad, Haryana 121001 | 2011 |
5. Agdova Technologies
Agdova Technologies is a well-established website design company in Faridabad, offering a wide range of website design services that enhance your business's online potential. With a focus on driving conversions, Agdova Technologies creates websites that deliver an improved online experience, increase visibility, build a professional image, raise brand awareness, and foster long-lasting relationships with your audience.
Agdova Technologies understands the significance of a website in enabling business growth in the online realm. Their team of experts crafts websites that are visually appealing, user-friendly, and designed to drive conversions. By prioritizing user engagement and revenue generation, they create online experiences that leave a lasting impression on visitors.
Engaging a professional web design agency such as Agdova Technologies offers numerous advantages for businesses. By entrusting the planning, design, and execution to experts, businesses can save time and effort while ensuring a well-crafted website. Some key benefits of hiring a website design company include working with skilled professionals, implementing a robust project plan, receiving unique and competitive designs, and having SEO-friendly and responsive websites.
Agdova Technologies offers exemplary web design services in Faridabad (Delhi NCR), catering to diverse business needs. Their services include static website design for showcasing products or services, dynamic website design for creative and interactive experiences, responsive website design for optimal viewing on all screen resolutions, eCommerce web portal development for maximizing ROI, WordPress website development for user-friendly platforms, and customized template design for attractive website layouts.
Agdova Technologies follows a web design strategy that aligns seamlessly with your brand and business goals. They strive to understand your unique needs and create designs that cater specifically to your business. By combining a focus on business objectives with creative design solutions, Agdova Technologies ensures a strong web presence for your business.
As a premier web design company in Faridabad, Agdova Technologies stands out by delivering designs that convert. Their experienced and dedicated team creates attractive and user-friendly websites that drive results for your company. With a focus on innovation, integrated CMS websites, scalability, affordability, and a commitment to excellence, Agdova Technologies positions itself as the best choice for your website design needs.
| | | |
| --- | --- | --- |
| Website | Location | Founded |
| https://www.agdova.com/ | 12/2 Second Floor, Mannat Arcade Old Sher Shah Suri Road Sector – 36, Faridabad – 121003 Haryana, India | 2014 |
6. JeewanGarg
JeewanGarg is a reputable website designing company in Faridabad, known for its extensive portfolio of successful projects. They understand that website designing is an art form, and they pride themselves on being masters of this craft. With a focus on delivering websites that embody the essence and strength of your business, JeewanGarg employs a continuous and refined process to ensure exceptional results. Whether you are a growing business or an established one, JeewanGarg offers a range of services to help you establish a strong online presence.
It is important to understand that web designing and web development are two distinct processes that complement each other. While often used interchangeably, they involve separate procedures. Web designing focuses on creating visually appealing and user-friendly interfaces, while web development involves the technical aspects such as coding, scripting, server configuration, network security, and e-commerce development. JeewanGarg recognizes the symbiotic relationship between design and coding, considering both as essential components in building a successful website.
Web designing can be likened to building the body of a car, as it plays a crucial role in attracting visitors to a website. It encompasses the visual elements, layout, and user experience, ensuring that the website is aesthetically pleasing and engaging. JeewanGarg understands the significance of an impressive design in capturing the attention of users and creating a positive first impression.
While web designing focuses on the frontend aspects of a website, web development serves as the engine that powers it. It involves writing markup, coding, and the implementation of various functionalities. JeewanGarg recognizes the backend complexities and technical requirements involved in web development, including client-side and server-side scripting, content management systems (CMS), and e-commerce integration. By incorporating these elements effectively, they ensure a seamless and optimized website experience for both businesses and users.
JeewanGarg emphasizes the need for a professional company that can handle both web designing and web development under one roof. Some companies outsource or subcontract certain aspects of their projects, which can lead to inconsistencies and subpar results. By having a dedicated team of experts in both design and coding, JeewanGarg ensures the seamless integration of these components, resulting in a cohesive and high-quality website.
| | | |
| --- | --- | --- |
| Website | Location | Founded |
| https://www.jeewangarg.com/ | Delhi/NCR, 987, Sector 37, Faridabad, Haryana 121003 | 2010 |
7. Dixinfotech
Dixinfotech is a trusted and renowned Website Designing Company in Faridabad. If you are searching for a reliable and professional web development partner, your search ends here. With a team of experienced web designers and developers, Dixinfotech can assist you in creating a stunning website that not only looks visually appealing but also functions seamlessly.
Website designing and web development play a crucial role in the growth of a business. They serve as powerful tools that effectively showcase your brand to the target audience. By investing in professional web design services, you can enjoy numerous benefits and propel your business forward. Dixinfotech understands the significance of web design in helping businesses establish an attractive and impactful digital presence.
Dixinfotech offers a wide range of web design and development services to cater to diverse business requirements. Whether you need a simple yet elegant website or a highly interactive and captivating one, Dixinfotech can curate the perfect solution for you. As a leading web development company in Faridabad, they have the expertise to identify customer needs and develop websites that are equipped with the best search engine marketing features. The primary objective is to ensure that the websites have a great aesthetic appeal and deliver an exceptional user experience.
Dixinfotech goes beyond website designing and web development. As a comprehensive digital solutions provider, they offer additional services such as mobile app development and digital marketing services including SEO, SMO, PPC, and SMM. By leveraging these services, you can achieve holistic business growth and effectively reach your target audience. Dixinfotech adapts their services according to your unique requirements, ensuring that your company experiences tangible growth and success.
| | | |
| --- | --- | --- |
| Website | Location | Founded |
| https://www.dixinfotech.com/ | 17-18, 1st Floor, Varun Tower, Sector 20B, near Ajronda Chowk, Faridabad, Haryana 121001 | 2019 |
8. Aakarist
Aakarist is a leading digital marketing agency located in Faridabad. Aakarist is founded in 2018.
Aakarist is proud to be the #1 digital marketing agency in India, helping businesses of all sizes to grow and succeed online. Aakarist team of experts offer a range of services including mobile app design and development, UI/UX design, graphic design, and website design and development.
Aakarist team work hard to create standout content that targets the people who matter most to your business, and they are dedicated to delivering results that help you achieve your goals. If you're looking for a trusted partner to help you power your digital vision, contact Aakarist today to learn more about what they can do for you.
| | | |
| --- | --- | --- |
| Website | Found | Address |
| https://aakarist.com/ | 2018 | A-5/4, Nehru Ground, New Industrial Twp 1, New Industrial Twp, Faridabad, Haryana 121001 |
11. Webpulse Solution
Webpulse Solution is a leading web design and SEO company located in Delhi. Webpulse Solution is founded in 2011.
Webpulse Solution (P) Limited, a leading among the top web designing companies based in New Delhi, India. Webpulse Solution has successfully delivered over 1000 projects in the last 10 years. Webpulse Solution has clients from all over India and more than 50 countries across the globe. Webpulse Solution offers a wide range of web design and development services that help businesses to grow online.
The company has a team of experienced and skilled professionals who use the latest technologies and trends to deliver quality solutions that meet the specific needs of each client.With its commitment to provide excellent service and customer satisfaction, Webpulse Solution has become one of the most trusted web design companies in India. The company has won several awards and accolades for its work in the field of web designing and development.
| | | |
| --- | --- | --- |
| Website | Found | Address |
| https://www.webpulseindia.com/ | 2011 | 2nd floor building no 5 park end vikas marg preet vihar, Delhi, 110092 |
9. Om Soft Solution
Om Soft Solution is a professional and fasted growing web design company located in Sector 11, Faridabad. Om Soft Solution is founded in 2012.
Om Soft Solution is a Website designing Company in Faridabad, Delhi. The company has a team of experienced professionals who have worked in the field of website design and development for several years. The company offers a wide range of services such as website design, development, eCommerce solutions, software development, and mobile application development.
Om Soft Solution is a leading website design, software development, and mobile application development company based in Delhi, India. Om Soft Solutionis proud to announce that Om Soft Solution has successfully completed 10 years in business this month. Since inception in 2012, Om Soft Solution has worked hard to become a premier IT solutions provider, serving clients from all over the world.
Om Soft Solution team of highly skilled and experienced professionals has helped us achieve this milestone. Om Soft Solution is grateful to our clients for their continued support and faith in us. Om Soft Solution look forward to continuing to serve them with the same dedication and commitment in the years to come.
| | | | |
| --- | --- | --- | --- |
| Website | Found | No. of Employees | Office Address |
| https://www.omsoftsolution.com/ | 2012 | 11-50 | SCO B-20, Sector 11D, Block B, Sector 11, Faridabad, Haryana 121006 |
10. Creative Orion
Creative Orion is a fasted growing web design and branding agency located in Greater, Faridabad. Creative Orion is founded in 2015.
Creative Orion is a leading website designing company in Faridabad, India. They offer services such as website designing, web development and internet marketing. Creative Orion has a team of experienced website designers who have been designing websites for over 5 years. This experience gives them the ability to design websites that are both user-friendly and aesthetically pleasing. In addition, they use the latest web design technologies to ensure that your website is compatible with all major browsers and devices.
There are a few things to keep in mind when hiring Creative Orion for your website design needs. First, be sure to have a clear idea of what kind of design you are looking for. The team at Creative Orion is very creative and can help turn your vision into reality, but they need to know what you have in mind first. Once you have a good understanding of the overall look and feel you are going for, reach out to the team and let them know what you need. They will be able to provide you with a quote and timeline for the project.
| | | |
| --- | --- | --- |
| Website | Found | Address |
| https://creativeorion.com/ | 2015 | BH 420, 4th Floor, Business Hub Sector 81, Greater, Faridabad, Haryana 121004 |
11. Growingwings Technology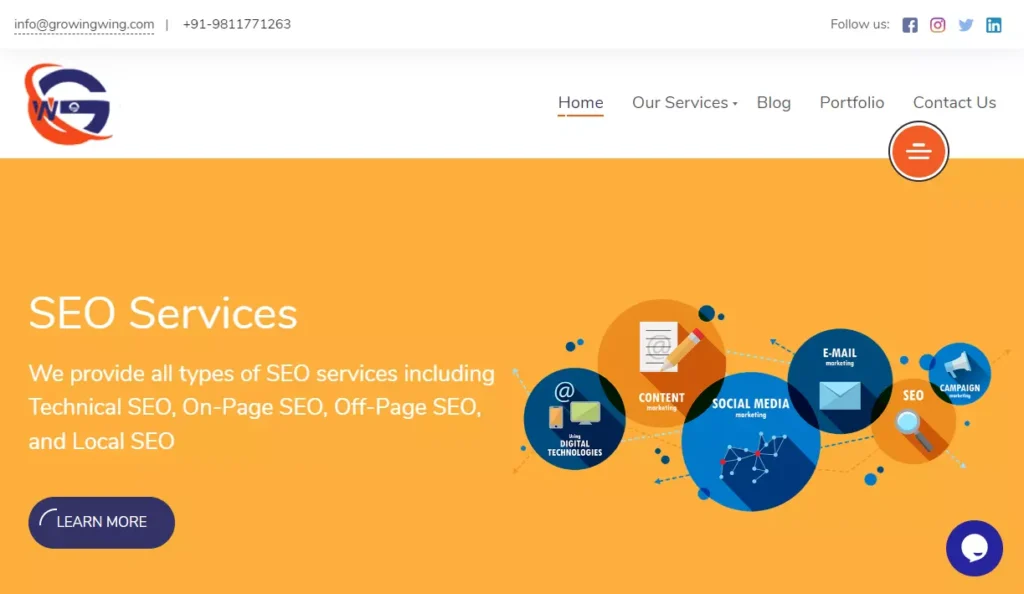 Growingwings Technology is a web design company located in Sector 37, Faridabad. It's a digital marketing agency incorporated in 2020.
Welcome to the world of digital marketing services. Growingwing Technology is a mark of perfection in the field of web design. Growingwings Technology is a leading provider of digital marketing services with years of experience in the industry. Growingwings Technology offers a complete range of services that include web design, development, SEO, social media marketing, email marketing, and more.
Growingwings Technology has a team of highly skilled and experienced professionals who are dedicated to providing our clients with the best possible service. We use the latest technology and tools to deliver high-quality results that meet your specific needs and requirements.
Growingwings Technology understands that every business is different and has unique needs. That's why Growingwings Technology offers customized solutions that are tailor-made to suit your individual business requirements. Growingwings Technology works closely with you to understand your business goals and objectives and develop a plan that will help you achieve them.
If you're looking for a reliable partner for all your digital marketing needs, look no further than Growingwing Technology. Contact Growingwings Technology today to learn more about our services and how we can help you grow your business online.
| | | |
| --- | --- | --- |
| Website | Found | Address |
| https://www.growingwing.com/ | 2020 | Huda Market, Sector 37, Faridabad, Haryana 121003 |
12. Yatharthriti It Service Pvt Ltd
Yatharthriti It Service Pvt Ltd is a web design agency located in New Industrial Twp, Faridabad. It's a private limited It Services company incorporated on 16 April 2013. The name of the Directors of Yatharthriti is Kuldeep Kumar and Ganesh Dass.
Yatharthriti IT Services Pvt Ltd is a growing organization committed to providing the best possible service to all its clients. Their work process is focused on delivering the highest quality products and services to our clients. They have already completed many projects, ranging from website development to complex application development. We have strong expertise in E-Learning management system development, an upcoming industry requirement. With their proven track record of success, they are confident that we can provide our clients with the best possible service and results.
Yatharthriti IT Services Pvt Ltd is a leading provider of E-learning management system development and has a strong track record in the industry. The company's strong domain expertise, extensive technology skills, process focus, speed, and innovation enable it to provide high-quality IT solutions to customers. Yatharthriti gives 24*7 support for its services and products and has a global presence.
| | | |
| --- | --- | --- |
| Website | Found | Address |
| https://www.yatharthriti.com/ | 2013 | A22, Second Floor, above Monte Carlo Showroom, Nehru Ground, New Industrial Twp 1, New Industrial Twp, Faridabad, Haryana 121001 |
Final Words
In conclusion, the web design industry in Faridabad is thriving with several reputable companies offering exceptional services. Each of the web design companies mentioned in this list, including Web Solution Centre, Digital Hive, Webdecorum, Agdova Technologies, Creative Brain Web, JeewanGarg, and Dixinfotech, brings its unique strengths and expertise to the table.
These companies have proven track records of delivering high-quality websites that not only showcase the client's brand effectively but also provide an excellent user experience. They understand the importance of responsive design, SEO optimization, and staying up-to-date with the latest web design trends.
Whether you are a small business owner looking to establish an online presence or a larger organization seeking to revamp your existing website, these companies can cater to your specific needs. With their skilled teams of designers and developers, they can create visually stunning and functional websites that align with your business goals.
Additionally, these web design companies in Faridabad offer a range of related services such as mobile app development, digital marketing, and SEO, allowing businesses to have a comprehensive online strategy.
When choosing a web design company, it is essential to consider factors such as expertise, portfolio, client testimonials, and the ability to deliver projects on time and within budget. By selecting one of the best web design companies in Faridabad mentioned in this list, you can ensure a successful online presence that drives user engagement, enhances brand visibility, and contributes to business growth in the competitive digital landscape of 2023.