Best Web Design Companies in Knoxville, TN
Are you in Knoxville, TN, and searching for the best web design companies to help you create an impressive online presence? Look no further! In this article, we'll introduce you to some of the top web design companies in Knoxville, each known for their exceptional services and creative designs.
These are just a few of the best web design companies in Knoxville, TN. Each of them has a track record of delivering outstanding websites that not only meet your business objectives but also leave a lasting impression on your online visitors. When choosing a web design company, consider your unique requirements and goals to find the one that suits you best.
Whether you're a local business, nonprofit organization, or entrepreneur, Knoxville's web design companies have you covered to make your online presence shine. Here are the best web design companies in Knoxville:
1. G Squared Studios
When it comes to web design in Knoxville, TN, G Squared Studios stands out as one of the best choices for creating and enhancing websites that cater to your specific needs. If you're looking for a new website or website design services in Knoxville, G Squared Studios is a reliable option.
Mobile Friendly:
Your website needs to look fantastic and function seamlessly on various devices. G Squared Studios ensures that your website is mobile-friendly, making it visually appealing and easy to navigate on mobile phones, tablets, and desktop computers. This is not just about aesthetics; it's about staying in line with Google's mobile-first approach, which can positively impact your website's search engine rankings. So, when your potential customers access your site on their smartphones, they'll have a smooth and engaging experience.
Search Engine Optimized:
A great website is of little use if it doesn't attract the right audience. G Squared Studios knows this well. They optimize every page of your website to meet Google's criteria, ensuring that your website is more likely to show up in relevant search results. This means driving targeted traffic to your site. They pay close attention to the content and structured data on the backend of your website, providing every advantage possible to help your business connect with potential customers. For example, if you run a local bakery in Knoxville, their SEO techniques could help your website appear in search results when someone in the area looks for "best Knoxville bakeries."
Optimized for Speed:
Slow-loading websites can be a major turn-off for visitors. G Squared Studios takes website speed seriously. They optimize your website for speed, which not only enhances the user experience but also positively impacts SEO and your site's click-through rate. They achieve this by using fast web hosting servers, optimizing images, and following best practices to ensure your website loads quickly and efficiently. For instance, if you have an online store selling handmade crafts, a fast-loading website will keep potential customers engaged and less likely to abandon their carts due to slow load times.
G Squared Studios excels at creating and improving websites in Knoxville. Their commitment to mobile-friendliness, search engine optimization, and speed optimization ensures that your website is not just visually appealing but also functional and effective in reaching your target audience. So, whether you're starting a new business or revamping an existing one, consider G Squared Studios for top-notch web design services in Knoxville, TN.
Read more https://gsquaredstudios.com/
2. Smoky Mountain Web Design, LLC
This local web design company, nestled in Pigeon Forge, brings over 15 years of experience to the table, with a commitment to helping your business thrive.
Crafted Just for You:
Smoky Mountain Web Design prides itself on crafting unique websites tailored to your specific needs. Each website is meticulously handcrafted and hand-coded, ensuring it aligns perfectly with your vision. Their expertise shines through in creating beautiful and engaging websites, all designed to produce immediate, tangible results and establish your online presence.
The Technology Advantage:
Smoky Mountain Web Design employs the latest technology and tools to develop websites, primarily using WordPress. This means you can expect stunning visuals, pixel-perfect precision, and clean, attractive designs. If you're looking for WordPress design services, you can try them.
Affordable Website Design:
One of the standout features of Smoky Mountain Web Design is its commitment to affordability. For as low as $100 a month, you can have a professionally designed website. This cost-effective option makes it one of the most affordable web design services in Knoxville and East Tennessee.
Effortless Maintenance:
Let Smoky Mountain Web Design handle website maintenance for you. They offer services to update your website with new pages, posts, plug-in updates, and more. This frees you up to focus on what you do best – running your business.
Local SEO for Visibility:
For local businesses looking to boost their visibility in East Tennessee, Smoky Mountain Web Design offers hand-crafted local search engine optimization services. This means your business can shine brightly in local searches, attracting more customers from the area.
Digital Marketing Expertise:
Smoky Mountain Web Design goes the extra mile by offering a range of digital marketing services aimed at increasing your visibility in Knoxville. These services encompass search engine optimization, pay-per-click ads, content marketing, and more. Their goal is to help your business flourish in the digital landscape.
Web Hosting Perks:
When you choose Smoky Mountain Web Design for your website needs, you receive free web hosting as part of the package. They also offer a budget-friendly $10 per month web hosting option. Plus, all their web hosting plans come with SSL certificates and are optimized for swift loading, ensuring a seamless user experience.
Beyond Web Design:
And it doesn't stop at web design. Smoky Mountain Web Design also provides other services such as logo design, business cards, and more. They are your one-stop shop for all your branding and digital needs.
In summary, Smoky Mountain Web Design, LLC, stands out as one of the best web design companies in Knoxville, TN, offering affordable, innovative, and effective website solutions that cater to your unique business requirements. Whether you're looking for a new website, SEO services, or digital marketing, they've got you covered, and they're just a stone's throw away from Knoxville in Pigeon Forge.
Read more https://www.smokymountainwebdesign.com/
3. JSH Web Designs
When you're looking for a web design and marketing partner in Knoxville, JSH Web Designs is a name that stands out. They've been in the business for over a decade and have helped more than 400 businesses across Tennessee and the United States. Here's why you might want to consider them for your web needs:
You Can Count on Their Mission
JSH Web Designs isn't just about creating good-looking websites; their mission is to help you succeed online. They're all about driving traffic and growing your revenue. Their commitment to providing you with the right tools and using technology to enhance your business is something you can rely on. Plus, their focus on superior customer service means they genuinely care about your success.
Tailored Services to Fit Your Needs
Whatever your web needs are, JSH Web Designs has got you covered:
Website Design and Development: Whether you're starting fresh or giving your website a makeover, they specialize in creating sites that reflect your brand and identity.
Web Hosting: Quality hosting that's stable and budget-friendly – that's what you can expect from them.
Marketing & PR: They sit down with you one-on-one to understand your marketing needs and develop a strategy that works for you. A local restaurant saw a 30% increase in reservations after working with them.
Graphic Design: From logos to complete rebranding, they handle projects of all sizes. Just ask the local boutique that saw a 20% increase in their customer base after JSH Web Designs reimagined their branding.
Programming & Coding: In a world filled with templates, they provide custom programming and coding, ensuring a unique experience for your clients.
SEO (Search Engine Optimization): They're on top of the latest updates from Google and Bing, helping you rank for the keywords that matter most to your customer base. A local IT consultancy firm saw a 40% increase in organic website traffic after partnering with them.
When it comes to choosing a web design and marketing partner, you want a company that understands your unique needs. JSH Web Designs not only understands but also delivers on its promises. Their commitment to your success, tailored services, and real-world success stories make them a company worth considering for your web projects. Your journey to online success could be smoother with their expertise by your side.
Read more https://jshwebdesigns.com/
4. South Made
Why South Made?
You'll appreciate that they don't just create cookie-cutter websites. Instead, they tailor their designs to be user-focused and intuitive, ensuring a fantastic online experience for your visitors. That means more traffic, more leads, and more conversions – the things that boost your online sales and revenue.
Here's what you can expect:
1. Exceptional Web Design & Development: South Made's expertise in web design isn't just about making your site look pretty; it's about turning it into a powerful tool for your success. They'll craft a design that not only attracts but also engages and converts your visitors into loyal customers.
2. Mobile-Friendly Designs: In today's digital age, a mobile-friendly website is non-negotiable. South Made specializes in responsive design, ensuring that your site looks fantastic and works seamlessly on screens of all sizes. It's all about making your message crystal clear and giving your business a competitive edge.
3. Rock-Solid Website Maintenance & Security: Your website's health and security are top priorities for South Made. They offer various features to keep your site running smoothly. Their maintenance service ensures all parts of your site remain compatible and secure, with customizable plans to meet your specific needs.
4. Dependable Website Hosting: Quality hosting is essential for a high-performing website. South Made ensures your site stays online, remains secure, and loads quickly. Plus, they take off-site backups to protect your data in case of unexpected issues.
5. Hassle-Free Domain Registration & Email Services: Setting up your website couldn't be easier. South Made offers domain registration and email services, streamlining the process and getting your online presence up and running smoothly.
6. Stunning Visual Content: First impressions are crucial. South Made provides top-notch photography, video production, and graphic design services, ensuring that your website stands out with high-quality, custom content.
So, if you're in Knoxville, TN, and looking for a web design company that goes the extra mile to understand your brand and deliver a website that truly represents you, South Made is the company to turn to. They're committed to creating online experiences that work as hard as you do, and that's something you'll certainly appreciate.
Read more https://southmade.com/capabilities/web-design/
5. Digital Engage
If you're dissatisfied with your website's performance, Digital Engage is the Knoxville SEO and Website Design company you should consider to turn things around in your business. They specialize in bespoke marketing solutions that can truly optimize your online presence in Knoxville, regardless of your industry, be it retail, legal, medical, finance, or any other.
When you're looking for a web design company in Knoxville, you want your website to not only look great but also perform well in terms of conversions. Digital Engage is known for their professional Website Design and Development services that deliver both style and substance.
They offer Design SEO services to help your business appear prominently in search engine results for Knoxville. Whether you're looking for a large-scale business website or a small business website design in Knoxville, they've got you covered with customized solutions.
What's more, they focus on enhancing the user experience and engagement of your website, making it user-friendly and easy to navigate. They also provide logo and graphic design solutions to ensure your brand is attractive and easily recognizable in the competitive online space.
When it comes to first impressions, Digital Engage understands the importance. They've successfully transformed websites for Knoxville companies in various industries, leading to higher search engine rankings, increased conversion rates, and visually appealing graphic designs.
Their services include making your website mobile-friendly and ensuring it loads quickly. Your logo design will be easily identifiable and well represent your business. Your website's engagement and user experience will be optimized, enhancing your online credibility and authority. You'll also notice more referrals and links.
To top it off, Digital Engage provides ongoing support services to keep your website running smoothly and optimally. So, if you're concerned about the poor optimization or design of your website holding your brand back, Digital Engage is the team to turn to. Contact them today for website or logo design services that offer genuine value and take your Knoxville business to new heights.
Read more https://digitalengage.net/knoxville/
6. Thrive Internet Marketing Agency
Thrive Internet Marketing Agency is a top choice for web design in Knoxville, TN. If you're on the hunt for a web design company that can create a stunning website, boost your online presence, and help your business grow, Thrive is the go-to choice.
Knoxville, the third-largest city in Tennessee, has a rich history that reflects in its colonial homes and museums. Interestingly, it's often called the "Marble City" due to abundant quarrying in the late 1800s, although the "marble" turned out to be limestone. Knoxville's unique blend of history and economic opportunities makes it a promising place for businesses.
Thrive recognizes this potential and offers innovative web design services tailored to Knoxville's competitive market. Here's what they bring to the table:
1. Search Engine Optimization (SEO): Thrive helps you secure your business's future growth by optimizing your website for organic search. They target keywords your audience is searching for, ensuring a steady stream of leads ready to convert.
2. Web Design and Development: Your website is your primary conversion tool. Thrive's Knoxville web design experts ensure it performs at its best, enhancing its overall effectiveness.
3. Content Writing: Compelling content is key to attracting and converting leads. Thrive's web design company in Knoxville provides high-performing, engaging, and persuasive content to reach a broader audience.
4. Shopify Web Design: Thrive optimizes your Shopify store to attract visitors and turn them into active shoppers, boosting your online sales.
5. Responsive Web Design: In today's digital landscape, a responsive website is a must to avoid losing potential customers. Thrive's Knoxville web designers ensure your site looks great and works seamlessly on all devices.
6. Ecommerce Web Design: To make your eCommerce website more profitable, Thrive combines digital marketing strategies with compelling web design to captivate your audience and drive sales.
7. Website Hosting: Frequent website outages can cost you potential business. Thrive offers robust and reliable web hosting solutions to keep your site up and running, safeguarding your bottom line.
8. WordPress Experts: Thrive's Knoxville web design experts use WordPress to create high-performing websites with a slew of optimization tools, giving you a competitive edge.
9. Custom Web Design: Thrive takes the time to understand your business and tailor their services to meet your unique needs and target market demands, helping you achieve your goals and more.
Thrive Internet Marketing Agency is your dedicated partner for web design in Knoxville. They combine innovative marketing with exceptional service to take your business to the next level. With their comprehensive services, you can set up a unique website, conquer the competitive market, and ensure the growth of your business in Knoxville.
Read more https://thriveagency.com/knoxville-web-design-company/
7. Slamdot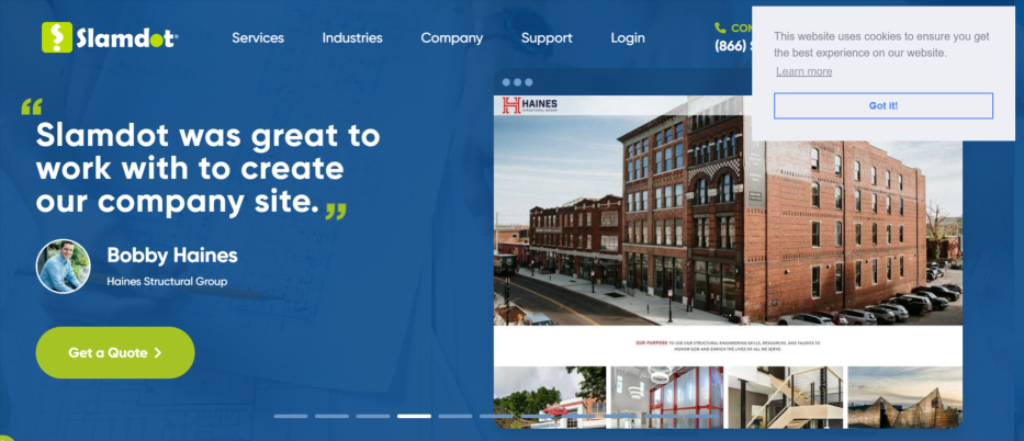 Looking for the best web design companies in Knoxville, TN? Slamdot might just be the solution you're seeking to unlock your online potential.
The Initial Consultation:
Slamdot's approach to website development begins with a free consultation. In this initial meeting, they take the time to understand your business and your goals. They're not about pushing services on you; if they believe they're not the right fit for your needs, they'll even recommend another provider.
Dedicated Web Developer:
Once you decide to work with Slamdot, you're assigned a dedicated web developer who stays with you throughout the project. This means they'll ensure your vision comes to life and that your website launches successfully.
Design Approval:
Before they start coding, Slamdot sends you a web design mockup for your approval. This is an excellent practice as it ensures that your website looks the way you want it to.
Content Management:
Providing text and photos for your website is all you need to do. Your dedicated project manager will take care of the rest, optimizing your content for search engines and ensuring it's user-friendly.
Key Features of Slamdot's Web Design:
Fully Responsive Design: Your site will look great on any device, be it a desktop, tablet, or smartphone.
No Long-Term Contracts: Slamdot is transparent and fair, ensuring you own your web presence without hidden fees or lengthy obligations.
Dedicated Specialists: Their team is in-house, meaning you can reach out whenever you need assistance.
Sub Pages: Slamdot builds your website with additional pages to benefit your business, such as Testimonials, Press, FAQ, and Contact Us.
Custom Home Page: No generic templates here; they create a unique homepage design to showcase your business's style.
Multiple Revisions: They offer revisions during both the design and production phases to align perfectly with your vision.
Blog: Boost your SEO with a search-enabled blog designed to fit your site's needs.
Contact Forms: Easy-to-use forms notify you via email with every submission.
SEO-Ready: They structure your site for easy search engine optimization and future marketing strategies.
WordPress: Trusted for over 20 years, WordPress is the most widely used content management system for its user-friendliness and flexibility, ensuring future growth and functionality.
Ecommerce: Sell merchandise with a streamlined online store and manage product listings.
Safe & Secure: Prioritizing security with SSL encryption and routine software and security updates.
Domain Configuration: Let them handle domain registration and setup, ensuring it connects seamlessly to your website and email service.
Analytics: Gain insights into your audience with Google Analytics integration, tracking user interactions and website performance.
Custom Logo & Branding: They refine or establish a brand identity, ensuring your website resonates with your company's identity.
Plugin Implementation: If you have specific plugin needs, Slamdot handles installation and configuration, integrating functionality with your site's design seamlessly.
Slamdot offers a comprehensive range of services to cater to your web design needs. With a dedicated team, customizable features, and optional upgrades, they're a solid choice for enhancing your online presence in Knoxville, TN.
Read more https://www.slamdot.com/
8. Make Me Modern Inc.
If you're on the hunt for the best web design company in Knoxville, TN, Make Me Modern Inc. is a top contender. They pride themselves on crafting websites that not only look fantastic but also function seamlessly to meet and exceed your expectations. Here's what sets them apart:
Mobile Optimized Design: In today's digital landscape, more and more people are browsing the web on their smartphones. Make Me Modern ensures your website is optimized for mobile devices, be it iOS, Android, or tablets. This is crucial because a poorly mobile-optimized site can turn potential customers away.
Lightning-Fast Loading: Nobody likes waiting around for a website to load. Make Me Modern understands this and ensures your site loads quickly, keeping visitors engaged and preventing them from leaving before even checking out your content.
Desktop and Mobile Content Coordination: Google's search algorithms favor websites that provide consistent content on both desktop and mobile platforms. Make Me Modern ensures your website passes this test, so you don't get penalized and your content appears on both types of devices.
Reach a Local Audience: Mobile users often search for local solutions, and Make Me Modern can optimize your site to ensure it appears in local search results. This is a great way to tap into the majority of smartphone searches geared towards finding nearby solutions.
Increase Lead Conversions: Your website is a powerful tool for generating leads, but it needs to be designed with user intent and a clear purchase funnel in mind. Make Me Modern achieves this by:
Defined Navigation: They make sure your website's navigation is user-friendly, so visitors don't get confused and leave.
Clear Call to Action: Your website will have obvious, compelling calls to action buttons, directing users towards specific desired goals. This is essential for converting visitors into customers.
Better User Experience: Make Me Modern focuses on creating a positive experience for every visitor. Your website will work for you, not against you, by maximizing conversions.
Cutting Edge Design: Outdated web design is a no-go in today's competitive market. Make Me Modern ensures your website stands out with:
Responsive Design: Your website will automatically adapt to various screen sizes, offering a smooth experience for all users.
Visually Appealing: Say goodbye to outdated aesthetics. Make Me Modern designs websites that look modern and innovative, reflecting your brand's drive and creativity.
Tailored For Your Needs: They understand that every company has unique requirements and opportunities. Make Me Modern works closely with you to create a website that meets your specific needs and niche.
So, if you want a web design company that not only makes your website look great but also helps drive your business forward by optimizing for mobile, boosting lead conversions, and staying cutting-edge, Make Me Modern Inc. is your go-to choice in Knoxville, TN.
Read more https://makememodern.com/
9. Smarter Searches
Smarter Searches is one of the standout web design companies in Knoxville, TN, and they have some impressive qualities that make them a top choice. When you're looking for a web design company, your main goal is to have a website that not only looks good but also performs well. Smarter Searches gets this and takes it a step further.
First off, they understand that the longer visitors stay on your website, the more likely they are to engage with your content or even make a purchase. Your website is essentially a digital extension of your business, and it should provide a seamless transition between your online and offline presence. Smarter Searches ensures your website is not just a pretty face but a functional tool for your business.
One of the standout features of Smarter Searches is their commitment to creating an immersive online experience. They don't just design websites; they create digital spaces that truly reflect your business's identity. Whether you're a brick-and-mortar retail store, a service professional, or something entirely different, they ensure that your website embodies your brand.
What sets Smarter Searches apart is their comprehensive approach. When you choose them for your web design, you get more than just a website. You get a full package that includes search engine optimization (SEO), social media integration, content management, ADA-compliance, reliable hosting, and holistic optimization of your online presence. It's not just about a website; it's about creating a powerful online sales tool.
Their expertise covers a wide range of web design needs. Whether you're looking for a client-facing site, a video-heavy portfolio site, an e-commerce platform, or a subscription-box site, Smarter Searches has the skills to bring your vision to life. They keep your users, customers, and clients in mind, ensuring that the content they create enhances, entertains, and educates.
Here's a real-world example of what they can do. Let's say you're a local bakery looking for a new website. Smarter Searches would create a website that not only showcases your delectable treats but also makes it easy for customers to order online. They'd optimize it for search engines, connect it to your social media channels, and make sure it complies with accessibility standards so that all customers can enjoy your goodies.
When you choose Smarter Searches for your web design needs in Knoxville, you're not just getting a website; you're getting a partner that understands the digital landscape and how to make your online presence shine. They combine creativity with functionality to create a website that you'll be proud to share with your customers.
Read more https://smartersearches.com/website-design/
10. Green Thoughts Consulting
If you're searching for the best web design company in Knoxville, TN, you might want to consider Green Thoughts Consulting. Here's why they stand out:
Passion for Quality and Speed: Green Thoughts Consulting is all about creating high-quality websites quickly. In a world where a strong online presence is crucial, their dedication to fast and top-notch web design is a real advantage.
A Decade of Experience: With over ten years of experience, Green Thoughts Consulting has a proven track record. They've been designing affordable websites for quite some time, and you can find testimonials and reviews from satisfied clients to vouch for their work.
Understanding Small Businesses and Startups: They know the unique needs of small businesses and startups. In a city like Knoxville, the local economy and environment matter. Green Thoughts Consulting gets this, and they recognize that not everyone can or wants to invest thousands in a custom website.
Affordable Packages: The good news is that they offer affordable web design packages starting at just $997. This package even includes three months of hosting, making it an excellent deal. In the world of web design, where quality often comes at a high cost, this is a steal.
Impressive ROI: Many clients who have chosen Green Thoughts Consulting have seen a significant return on investment. Typically, their web designs bring an ROI of 2 to 8 times per year. That's a substantial return for your investment, and it can have a big impact on your business.
Quick Turnaround: Green Thoughts Consulting is known for their efficiency. Your website can be up and running in just 1 to 4 weeks. This speed can be a game-changer for businesses looking to establish or enhance their online presence rapidly.
Affordable Starting Price: Their web design packages begin at $997 and include everything you'd need. This means you can have a professional website without breaking the bank. It's an affordable option that can make you the envy of the Knoxville business scene.
What makes Green Thoughts Consulting the best web design company in Knoxville for you is their commitment to quality, their experience, understanding of local business needs, and the incredible value they offer with their affordable web design packages. If you're looking to make a mark in the Knoxville business landscape, Green Thoughts Consulting is definitely worth considering.
Read more https://greenthoughtsconsulting.com/chattanooga-web-design-services/local-service-areas/web-design-knoxville-tn/
Conclusion
In the vibrant city of Knoxville, Tennessee, you'll find a handful of top-notch web design companies that stand out for their exceptional services and dedication to helping businesses create a strong online presence. If you're on the hunt for the best web design companies in Knoxville, TN, you won't be disappointed with your choices.
One such standout company is "KnoxvilleWeb Pros." They have consistently proven themselves to be a reliable partner for businesses looking to enhance their online presence. Their team of skilled web designers has a knack for creating visually appealing and user-friendly websites. They take the time to understand your specific needs and preferences, ensuring that the final product aligns perfectly with your brand identity.
"Knoxville Web Wizards" is another excellent option to consider. They have a reputation for delivering websites that not only look stunning but also perform well. The websites they create are optimized for search engines, making it easier for potential customers to find your business online. The team at Knoxville Web Wizards is known for their attention to detail and their commitment to providing top-notch customer service.
If you're searching for a company that offers a blend of creativity and technical expertise, "Knoxville Digital Solutions" is a fantastic choice. They have a team of designers and developers who are passionate about what they do. They can take your vision and turn it into a fully functional, visually appealing website that engages your audience. They also provide ongoing support, ensuring your website remains up to date and secure.
Lastly, "Knoxville Web Designs" is a company that prides itself on offering cost-effective solutions without compromising on quality. They understand that not all businesses have an unlimited budget, and they work to provide web design services that are both affordable and effective. Their portfolio includes a variety of websites, each tailored to the unique needs of their clients.
In conclusion, Knoxville, TN boasts a variety of web design companies that can help your business shine in the online world. Whether you prioritize creativity, functionality, affordability, or a combination of these factors, you'll find a web design company in Knoxville that suits your needs. It's essential to do your research, read reviews, and reach out for consultations to find the perfect match for your business. The right web design company can make a significant difference in how your brand is perceived online and, ultimately, in your business's success.