Best Web Design Companies in Savannah, GA
Are you on the hunt for the top web design companies in Savannah, Georgia? Your quest for a skilled and reliable web design partner ends here. In this guide, we'll introduce you to the best web design companies that Savannah has to offer. Whether you're a local business seeking a stunning website, an entrepreneur with a startup vision, or anyone in need of a web presence, these companies are ready to transform your online dreams into reality.
You can count on their expertise, creativity, and commitment to craft websites that not only look great but also deliver exceptional results. Let's explore your options and find the perfect web design company for your needs in Savannah, Georgia.
1. Interaction Developers
Are you on the lookout for the best web design company in Savannah, Georgia? Look no further! Let's explore some top-notch options that can help you with web design, hosting, SEO, and more.
If you're searching for a web design company right here in Savannah, Interaction Developers is your go-to choice. They offer a comprehensive range of services, including web design, hosting setup, SEO, marketing, logo design, graphic design, and web development. Whether you need a simple one-page online brochure or a powerful e-commerce store, Interaction Developers, with over 20 years of experience, is here to assist.
Why Choose Interaction Developers?
Years of Expertise: With over 20 years in the business, Interaction Developers have honed their skills, ensuring top-quality results.
Impressive Client Portfolio: They have served more than 60 clients across North America, making them well-versed in diverse business needs.
Full Suite of Services: From concept to design, development, marketing, and analytics, they offer a complete package to elevate your online presence.
Services Offered:
Web Design: Interaction Developers create responsive and cross-platform designs, catering to both large corporate sites and small business web pages.
Web Development: Using cutting-edge languages and platforms, they handle all web development in-house, ensuring seamless project progress.
SEO: They assist in marketing your website through search engine optimization, Google My Business, Bing Places listings, and pay-per-click advertising.
Graphic Design: Need branding materials? Interaction Developers can help with business cards, brochures, signs, and both print and digital ads.
Hosting: They provide hosting services while ensuring you retain full control over your website.
Interaction Developers in Savannah, Georgia, is a one-stop solution for all your web design and digital marketing needs. With a strong track record and a skilled team, they can help your business thrive in the digital realm.
When choosing a web design company, remember that Interaction Developers combines experience, a wide range of services, and a client-focused approach, making them a top contender in Savannah, Georgia.
Read Also: Seamlessly Transitioning from ReactJS to Next.js
2. Speros, Inc.
Your online presence matters. In today's digital age, potential customers research businesses online before making a decision. An outdated website can convey the wrong message or even lead potential customers to believe your business is no longer active. If your website hasn't seen a refresh in a while or if you're among the 40% of small businesses without a website, it's high time to act.
Speros, Inc. specializes in crafting websites that will help your business thrive online. They understand the importance of a strong online presence and make it happen for you. Here's how:
Speros, Inc. Services
1. WordPress Web Design: Speros uses WordPress, a platform trusted by 30% of all websites on the internet. Why? Because it provides a customized web design that you can easily manage and maintain on your own. You won't be tied down to web developers for every update. Looking for cost-effective WordPress website design services, try Speros, Inc. for your new existing website project.
2. Convenient Technology Service Plans: If managing your website in-house isn't your preference, Speros offers service plans to ensure your site remains up to date. This means your website's software is always current, giving your visitors a seamless experience.
3. Responsive Web Design: Your website will look great on any device. Speros creates responsive designs, ensuring your site adjusts to any screen size. Whether your customers visit from a computer, tablet, or smartphone, your website will shine.
4. Search Engine Optimization (SEO): A beautiful website is only as good as its visibility. Speros offers SEO services to make sure your website is easily discoverable by your target audience. With effective SEO strategies, your business will be found.
Speros, Inc. is your partner in achieving your online goals. They understand that some business owners might hesitate due to the perceived cost of a website. However, Speros saves you time and energy by providing a high-quality, professional web design that attracts new customers to your business.
With Speros, you'll receive a turn-key product, ensuring a user-friendly experience for your customers on all devices. Plus, their SEO strategies guarantee that your website ranks well and is visible to potential customers.
Don't let an outdated or non-existent website hold your business back. Contact Speros, Inc. in Savannah, GA, and take a step towards a stronger online presence that will drive growth and success for your business.
Read Also: Best Web Design Companies in Knoxville, TN
3. RobMark
If you're in Savannah, GA, and you're on the hunt for the best web design company to help boost your online presence, look no further. RobMark is your go-to choice for top-notch web design and development services.
RobMark: Your Gateway to the Digital World
In today's digital era, your online presence matters more than ever. RobMark understands this and is dedicated to helping your business thrive in the digital landscape. They offer a wide range of services designed to enhance your brand and connect you with your target audience.
Diverse Services for Your Needs
RobMark's services are tailored to meet all your digital needs. Whether you need a responsive website, eye-catching online ads, content strategy, or search engine optimization, they've got you covered. Let's take a closer look at what they offer:
Content Management Systems: Manage your online content effortlessly.
Content Marketing: Create compelling content to engage your audience.
Content Planning: Strategically plan your content for maximum impact.
Digital Advertising: Reach your audience through dynamic online ads.
Email Marketing: Connect with your customers through effective email campaigns.
PPC / Pay Per Click: Drive traffic and conversions through paid advertising.
In-Depth Analytic Summaries: Gain insights into your online performance.
Mobile & Responsive Design: Ensure your website looks great on all devices.
Online Advertising: Promote your brand effectively online.
Search Engine Optimization: Improve your website's visibility on search engines.
Social Media: Harness the power of social media for your brand.
Social Media Integration: Seamlessly integrate social media into your online strategy.
Web Applications: Develop custom web applications tailored to your needs.
Web Design: Create visually appealing and user-friendly websites.
Web Development: Build robust, functional websites from the ground up.
Website Analytics: Monitor and analyze your website's performance.
Website Health Improvements: Ensure your website is in top shape.
Website Maintenance: Keep your website up to date and secure.
Website Optimization: Optimize your site for better performance.
RobMark's comprehensive services make them a one-stop shop for all your web design and digital marketing needs in Savannah, GA. With their expertise and dedication to helping you stand out in the digital space, you can trust RobMark to elevate your brand and connect you with your target audience. So, why wait? Contact RobMark and let them take your digital presence to the next level. Your success in the digital world starts here.
Read Also: How to Choose a Remarkable Domain Name for Your Brand
4. Hire Jordan Smith
In the heart of this picturesque city, standing out can be a challenge. But with a well-crafted website, you can leave a lasting impression on both residents and tourists. Jordan Smith specializes in creating professional, user-friendly websites that can help your business thrive in the Savannah area.
Here's what you can expect from Jordan Smith's web design services:
Savannah Web Design with Simplicity:
Jordan's approach is all about simplicity. Rather than confusing and flashy designs, he believes in clean, well-organized websites that guide your visitors toward a specific action. Whether it's scheduling a consultation, making a purchase, or requesting a free estimate, simplicity is the key to success.
A Hassle-Free Process:
When you choose Jordan as your web designer, you're in for a smooth and enjoyable experience. After understanding your unique requirements, he'll present digital wireframes to visualize his design ideas. Your feedback will shape the final, modern design that resonates with your target audience and elevates your brand.
Easy Management:
Jordan ensures that you can easily manage your website. You won't need to be a tech guru to update or add pages. Custom backends are crafted when needed, making web management a breeze.
Speed and Security:
With eight years of experience, Jordan knows the ins and outs of web development. He builds websites that are fast and secure, not relying on pre-made themes and plugins. Performance is non-negotiable.
Flexibility:
Your website should evolve with your business and changing times. Jordan's flexible drag-and-drop interface lets you modify every aspect of your site whenever you need it. Your website is built to adapt.
Enduring Quality:
Jordan's sites are constructed to last. By following best development practices and utilizing reliable, proven plugins, your website won't crumble with every update. You can embrace updates without fear.
Mobile Responsiveness:
In an era where mobile traffic is on the rise, your site will be fully responsive. Jordan ensures that your website is optimized for visitors using smartphones and tablets, keeping you ahead in the mobile-friendly web world.
Ongoing Support:
Jordan doesn't just design your website and leave you hanging. He provides always-available training and support, so you can master the art of managing your site successfully.
So, if you're in Savannah, GA and seeking a top-tier web design company, choose Jordan Smith. With his expertise and dedication, your business will thrive online, standing out in this charming city and beyond.
Read more: https://hirejordansmith.com/web-design-savannah-ga/
5. TradeBark, LLC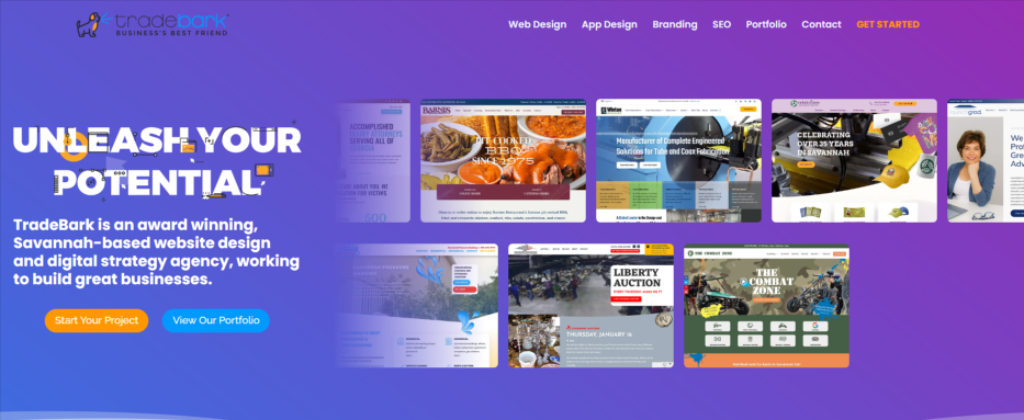 TradeBark, LLC is a top-rated web design and digital strategy agency based in Savannah, and they're dedicated to helping your business grow. Here's why TradeBark stands out in the web design scene in Savannah:
1. An Interactive, Dynamic Experience:
Your website should be more than just an online brochure. It should be an engaging and dynamic experience for your visitors. TradeBark understands this and strives to create websites that make a memorable first impression, drawing your prospects in and increasing your chances of converting visitors into customers.
2. SEO Expertise:
Your website won't be effective if it can't be found. Most users discover websites through search engines, and Google is the most popular choice. TradeBark takes search engine optimization (SEO) seriously. Their team ensures that your website ranks high on Google, improving your online visibility and making it easier for potential customers to find you.
3. Responsive Design:
In today's mobile-dominated world, having a responsive website is crucial. If your site isn't mobile-friendly, you risk losing visitors to competitors. TradeBark understands the importance of responsive web design, ensuring your site works well on both desktop and mobile devices. This not only improves user experience but also helps maintain your search engine rankings.
4. Tailored to Your Business:
One-size-fits-all web design doesn't cut it. TradeBark takes a holistic approach to designing websites. They start by researching your industry and understanding your business and your customers' needs. By tapping into your insights and experiences, they create a bespoke website that perfectly suits your brand.
5. Expertise and Experience:
With their experience and expertise, TradeBark ensures your website reflects your commitment to your audience and brand. An up-to-date, modern website shows that you care about your customers and your business, making you more attractive to potential investors.
In Savannah, GA, TradeBark, LLC, is undoubtedly one of the best web design companies. Their focus on dynamic, engaging websites, commitment to SEO, responsive design, and tailored approach to web design make them a valuable partner for businesses looking to enhance their online presence. Your website is your window to the world, and TradeBark will help you make the best impression possible. Don't settle for less when it comes to your web design needs – choose TradeBark for a website that truly stands out.
Read Also: Best Website Design Companies Buffalo NY
6. United WebWorks
United WebWorks – the go-to choice for optimizing, engaging, and search-engine-friendly websites.
Driving Traffic and Conversions
Your website should do more than just look pretty; it should be a powerful tool for generating leads and revenue. United WebWorks understands this, and that's why they create websites that work for your unique needs.
With United WebWorks, you can expect:
1. Engaging Business Websites: They craft websites that not only capture attention but also keep users engaged. A captivating design is essential, but it's the user experience that counts.
2. User-friendly eCommerce Websites: For businesses looking to sell products online, their eCommerce solutions are top-notch, making the shopping experience seamless for your customers.
3. Product-centric Web Pages: United WebWorks knows how to showcase your products and services effectively, ensuring that potential customers have all the information they need.
4. Web Designs that Showcase Brand Identity: Your website should reflect your brand's identity, and their designs are tailored to do just that.
5. Higher Web Traffic, Engagement, and Conversion Rates: They understand the importance of attracting more visitors, keeping them interested, and turning them into paying customers.
Digital Marketing Expertise
United WebWorks goes beyond just designing your website; they offer a complete digital marketing package to help your business thrive in the online space.
1. SEO / SERP: They use proven search engine optimization strategies to boost your website's visibility, leading to increased organic traffic, better rankings, and more sales.
2. Social Media Management: Engage your target audience on their preferred social platforms through strategic monitoring and interaction.
3. Pay-Per-Click: Custom online campaigns are designed to maximize exposure and attract new prospects, driving them towards the desired actions.
4. Lead Generation: Elevate your brand through paid search and social campaigns, conversion rate optimization strategies, SEO, and content marketing.
5. Content Marketing: Attract customers organically through inbound marketing, which offers a variety of tools for generating leads.
6. Website Development: Effective web design isn't just about aesthetics; it's a catalyst for generating leads. United WebWorks creates websites that not only look great but also drive results.
United WebWorks is your trusted partner in Savannah, GA, for web design and digital marketing. They know that your website is a critical asset for your business, and they have the expertise to make it work for you. Whether you need a stunning website, SEO improvements, or comprehensive digital marketing strategies, they have you covered. Contact United WebWorks today and see your online presence flourish.
Read Also: Best Web Design Agencies in San Bernardino, CA
7. Thrive Internet Marketing Agency
Are you searching for the best web design company in Savannah, Georgia? Look no further than Thrive Internet Marketing Agency. They're here to help you build a powerful online presence that drives your business to success.
Savannah, a city rich in history and charm, is not only a tourist magnet but also a thriving economic hub. With its colonial architecture and bustling festivals like the Savannah Music Festival, this city offers a unique blend of old-world charm and modern opportunities. If you're planning to start or expand your business here, an effective online presence is essential.
Thrive Internet Marketing Agency specializes in crafting high-performing websites that turn potential leads into paying customers. Their expertise extends beyond web design, encompassing a comprehensive range of digital marketing services. Let's delve into what sets Thrive apart:
Conversion-Driven Websites: Thrive doesn't just create websites; they build conversion machines. Your website will be designed to attract and convert potential customers, ensuring a steady stream of leads.
Digital Marketing Services: Thrive offers a suite of digital marketing services, including Search Engine Optimization (SEO), Pay-Per-Click (PPC) advertising, and social media marketing management. This means your website won't just look great but will also be easily discoverable by your target audience.
Proficiency in All Industries: Whether you're a small startup or a large corporation, Thrive caters to businesses of all sizes and industries. They understand the unique challenges and opportunities each business faces.
When you choose Thrive, you're not just investing in a web design company; you're investing in your business's success. Their team of experts will work closely with you to create a website that represents your brand and helps you achieve your business goals.
Savannah's rich history and vibrant culture make it a fantastic place to establish your business. However, to thrive in the digital age, you need a strong online presence. Thrive Internet Marketing Agency is the go-to web design company in Savannah, GA, to help you achieve this. Don't miss the opportunity to tap into the city's economic potential – let Thrive be your partner in building a successful online presence for your business.
Read Also: Best AI SEO Tools to Inspire Content Ideas
8. Huemor LLC
Huemor LLC: Building the Foundation for Your Success
Are you feeling that your website falls short of your company's potential? Huemor LLC understands that content, design, and code alone won't lead to success. You need a web design partner that can create the right strategy and guide you through the redesign process.
A memorable website is one that stands out in today's competitive marketplace. It effectively represents your brand, engages customers, and offers an intuitive user experience. Every word on your site should focus on building trust, demonstrating authority, and revealing value. With the right copy, your website can make every customer feel like you're speaking directly to them.
Huemor LLC knows that website redesigns can be complicated, but they're committed to making the process as smooth as possible. They want to understand your brand and take ownership of ensuring your website redesign is a success.
Finding the Best Web Design Agency: Your Next Steps
Choosing the right web design agency in Savannah might seem challenging, but the key is to do your homework. Research, get recommendations, and follow these strategies:
Ask for Recommendations: Reach out to friends or colleagues who may have worked with web design agencies.
Use Online Directories: Platforms like Clutch offer listings of web design companies, complete with rankings based on customer reviews.
Check Client Reviews: Look for agencies with positive client feedback and high ratings.
What to Look for in a Professional Web Design Agency
To ensure your chosen web design agency can meet your needs, consider these factors:
Great Track Record: Choose an agency with a successful history of experience.
Specialization: Look for agencies that specialize in the type of website you need.
Technical Expertise: Ensure the agency offers services that align with your project's requirements.
Team Size: A larger team can cater to specific needs effectively.
Client Satisfaction: Positive client reviews indicate a reliable agency.
Communication: Opt for an agency with clear communication and timely deliveries.
Certifications: Agencies with certifications or partnerships showcase their expertise.
Trusted: Reliable agencies are highly regarded by their clients.
The Benefits of Working with a Small Web Design Firm
Small web design firms offer individual attention to prioritize your brand and business goals. They often provide affordable pricing without compromising on quality or creativity. A small team ensures effective communication, collaboration, and minimal revisions, which keeps your project on schedule.
Evaluating the Work of a Web Design Agency
Choosing the right web design agency is critical for your business's success. To evaluate their work, consider:
Portfolio: Review the agency's past projects and case studies.
Reviews: Read testimonials from past clients to assess communication, response, and quality.
Performance: Test the websites for fast loading times, user-friendliness, mobile responsiveness, and feature functionality.
User Experience: Evaluate the overall user experience, focusing on usability.
Consistency: Ensure the designs align with each client's brand identity.
SEO: Check for SEO-friendly features, like proper metadata, clean code structure, and optimized images.
Results: Inquire about the agency's approach to driving measurable results.
Support: Confirm post-launch support and maintenance offerings.
Creating a Web Design RFP That Attracts the Best Agencies
To attract the best web design agencies, create a detailed Request for Proposal (RFP). Include:
Goals: Clearly define what you want to achieve with your website.
Budget: Set a realistic budget range.
Timeline: Specify milestones and deadlines.
Context: Provide background information about your business and industry.
Questionnaire: Include specific questions about the agency's experience and processes.
Read Also: Best SEO Strategies for Immigration Consultants
9. Creative Juice, LLC
Creative Juice, LLC is the top choice for those seeking a web design agency that can turn your vision into a stunning reality. Whether you're a startup, small business, tech company, corporation, nonprofit, or government organization, Creative Juice has a track record of crafting custom websites that stand out in the digital realm.
Tailored to Your Needs: Your website should be more than a digital brochure; it should be an extension of your brand. Creative Juice ensures that your website meets your unique needs and goals. Their designs are responsive on mobile devices, tablets, and compatible across various web browsers.
Effective Copywriting: With copy that speaks directly to your target audience, Creative Juice ensures that all essential information is placed "above the fold." Their clear and concise calls to action are designed to convert visitors into customers.
Results-Driven: What sets Creative Juice apart is their commitment to your success. They set clear goals for each project and work diligently to ensure you achieve them. Your website isn't just another project; it's a step towards achieving your business goals.
The Creative Process: Creative Juice takes you through a comprehensive web design process. It begins with a kick-off meeting where they understand your needs and goals. Market research, brand research, and competitor research follow. They develop a site map, create content, design wireframes, and bring it to life with stunning visuals. The development and testing phases ensure that your website works flawlessly. Finally, they launch your website, taking care of every detail.
Collaboration and Creativity: At Creative Juice, you're the creative force behind your brand, and they're the talented hands that make it shine. Their team, known as Juicers, collaborates closely with you throughout the process to ensure your ideas come to life.
Additional Services: Beyond designing your website, they offer a free website audit to identify areas for improvement. Creative Juice provides ongoing support to address any issues that may arise, ensuring that you're never alone on your digital journey.
So, if you're searching for a web design partner in Savannah, Georgia, Creative Juice, LLC should be at the top of your list. Their commitment to creating unique, responsive, and conversion-focused websites is a testament to their excellence. Explore their portfolio, get in touch, and see how they can help you bring your website to life.
Read Also: How to Verify Your Tumblr Blog in Google Search Console
10. Pure Code Digital Agency
Pure Code Digital Agency is your go-to choice for exceptional web design and SEO solutions. We offer a wide array of digital services, all geared towards delivering swift and effective results for your business. Here's why we stand out as one of the finest web design companies in Savannah, Ga.
Responsive Design: Our websites are designed to look stunning and function seamlessly on every device, be it a computer, tablet, or smartphone. Your online presence will shine, regardless of how your audience accesses your site.
Easy Customization: We provide a user-friendly content management system (CMS) that allows you to make small changes to your website with ease. You'll have full control over your site's content, making updates a breeze.
Security: We prioritize your website's safety by implementing regular updates and security measures, keeping it protected from potential threats.
User Experience: Our designs prioritize your users' needs, creating an engaging and intuitive navigation experience that keeps them coming back.
Project Planning: Before diving into your web design project, our Savannah-based team takes the time to understand your goals and expectations. We work closely with you to ensure your website aligns perfectly with your vision, whether you're seeking a simple site or one with all the bells and whistles.
Approach Planning: We recognize that every business has unique goals, target audiences, and technical requirements. This insight enables us to create custom, revenue-generating websites that align precisely with your business objectives.
First Impression: Your website is often the first interaction potential customers have with your brand. Making a positive impression is crucial, and our professional Savannah GA web design services ensure you do just that.
Savannah Web Design Experts: We're adept at crafting responsive websites that function flawlessly on any device. Whether you have a specific feature in mind or need guidance, we've got you covered.
Eye-popping Designs: Our designs are not just visually appealing; they're also optimized for search engines, ensuring the best user experience.
New to Online Presence? We'll guide you through the process of establishing a successful web presence.
Cutting-Edge Technology: We employ modern technology to ensure your site is responsive to all devices and thoroughly test it to guarantee every feature works seamlessly.
Highly Secure Websites: We take security seriously, ensuring your site is prepared to withstand any cyber threats.
In addition to our web design expertise, we offer an array of other services to meet your Savannah, Georgia web design needs:
Professional Web Design: We've been providing high-quality web design and development services for over a decade, tailoring our work to meet your business needs.
E-commerce Websites: If you're planning to sell online, our expertise in designing e-commerce websites with platforms like WordPress or Shopify will serve you well. We focus not only on presentation but also on security and structure.
Website Redesign: Stay competitive by periodically updating and redesigning your website. Our team can transform your outdated site into a more appealing and effective online presence.
Database Solutions: Efficient data management is crucial for businesses. Our database solutions ensure your data is well-organized and easily retrievable.
Security & Maintenance: We go beyond good looks and provide impenetrable security to safeguard your business. Our maintenance services prevent costly data breaches.
Private Domain Email Accounts: Professional communication is essential, and a domain-matching email address enhances your brand's credibility. We can help you set up domain email accounts for a more professional touch.
Pure Code Digital Agency is your trusted partner in the digital landscape. We understand the unique needs of businesses in Savannah, Georgia, and are dedicated to delivering web design solutions that drive success. Get in touch with us today and let's embark on the journey to an exceptional online presence. Your business deserves the best, and we're here to make it happen.
Read Also: Free Keyword Research Tools 2023: Find Top Profitable Keywords
Questions to Ask a Web Design Firm Before Hiring One
Before making your final decision, ask the following questions:
Industry Experience: Do they have experience in your industry?
Design Process: What is their web design process from concept to launch?
UX and Responsive Design: Do they specialize in user experience and responsive web design?
Post-Launch Support: Will they provide maintenance and support?
CMS Integration: Can they integrate content management systems like WordPress or Shopify?
References: Can they provide references from clients with similar projects?
Timeline: What is their typical turnaround time for a web design project?
SEO Focus: How do they ensure websites are SEO-friendly?
Cross-Device Compatibility: How do they ensure websites work well on different devices and browsers?
Cost and Timeline Breakdown: Can they provide a detailed cost and timeline breakdown for your specific project?
Read Also: Link Farming in SEO: What Is Link Farm and Why Google Hate?
What to Do After Hiring a Web Design Agency
After hiring a web design agency, ensure the success of your project by:
Clear Communication: Clearly communicate your goals and expectations.
Thorough Review: Review the website for functionality on different devices and browsers.
Training and Documentation: Request any necessary training and documents for managing and updating the site.
Digital Marketing: Promote your website through various digital marketing strategies.
Read Also: How to Change/Edit/Update My Google Business Listing
Web Design Process: How the Best Web Designers Build Websites
A successful web design process avoids common mistakes and emphasizes testing and refining. To ensure a standout web design:
Mobile-Friendly Design: Prioritize mobile and responsive design.
Optimize Loading Times: Improve loading times through image compression and caching.
Streamlined Design: Avoid clutter and maintain an organized layout.
Intuitive Navigation: Use clear and intuitive menus for easy navigation.
Conversion Focus: Add clear buttons to direct user actions.
Consistent Branding: Ensure design aligns with brand identity.
SEO Optimization: Implement SEO best practices.
Value-Centric Content: Focus on valuable, user-centered content.
User-Focused Design: Prioritize user experience and usability.
Responsive and SEO-Friendly Design: Ensure websites are optimized for search engines and different devices.
Read Also: Best AI Copywriting Tools
How Can You Attract Customers to a Newly-Built Website?
To attract customers to your newly-built website, implement both short-term and long-term digital marketing strategies. In the short term, use tactics like Google PPC, paid sponsorships, and cold outreach to bring in immediate traffic. In the long term, focus on strategies like SEO, organic social, and podcasting to build lasting authority and ROI.
Frequently Asked Questions (FAQs)
Q1: How do I choose the right web design company in Savannah, GA for my business?
Consider your specific needs, budget, and long-term goals when choosing a web design company. Review their portfolios and reach out to them to understand their approach.
Q2: Can you recommend a web design company in Savannah that's great for small businesses on a tight budget?
Savannah Web Design is a local favorite and offers tailor-made websites suitable for businesses of all sizes, making it a good choice for small businesses.
Q3: Which web design company in Savannah, GA specializes in SEO optimization to improve online visibility?
Ocozzio is known for its holistic approach, focusing on not just design but also SEO optimization. They can help improve your online visibility.
Q4: Are there any web design companies in Savannah with a reputation for creating unique and visually appealing websites?
Mighty 8th Media is known for its innovative solutions and ability to create unique, visually appealing websites.
Q5: How can I get started with one of these web design companies in Savannah, GA?
To get started, explore the portfolios of these companies, and reach out to them directly. They'll guide you through their process and help you bring your web vision to life.
Conclusion
In conclusion, if you're in the market for the best web design company in Savannah, GA, you have a variety of top-notch options to choose from. Each of these companies offers a unique blend of creativity, expertise, and commitment to creating websites that not only look fantastic but also deliver real results for your business.
Remember that your choice should align with your specific needs, whether you're a small business owner, a startup, or a large corporation. Consider factors like your budget, the complexity of your project, and your long-term goals when making your decision.
Don't hesitate to reach out to these companies, review their portfolios, and have a conversation to get a sense of their approach and how they can best bring your web vision to life. With the right web design partner by your side, you'll be well on your way to a stunning online presence that sets you apart from the competition and connects you with your target audience effectively. So, take the plunge and give your business the digital boost it deserves with the help of one of these top web design companies in Savannah, GA. Your online success is just a click away!